Operating Aspects of
22nd January 1937
Page 48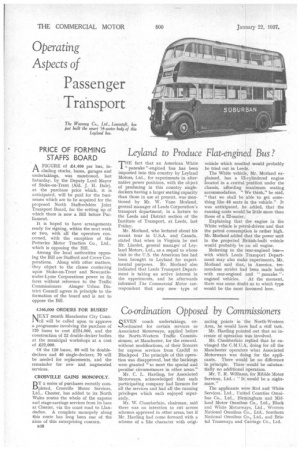 Page 48, 22nd January 1937 —
Operating Aspects of
Close
Passenger Transport
PRICE OF FORMING STAFFS BOARD
A FIGURE of 24,400 per bus, in1-1.. eluding stocks, buses, garages and undertakings, was mentioned, last Saturday, by the Deputy Lord Mayor of Stoke-on-Trent (Aid. J. H. Dale), as the purchase price which, it is anticipated, will be paid for the businesses which are to be acquired for the proposed North Staffordshire Joint Transport Board, for the setting up of which there is now a Bill before Parliament,
It is hoped to have arrangements ready for signing, within the next week or two, with all the operators concerned, with the exception of the Potteries Motor Traction Co., Ltd., which is opposing the Bill.
Among the local authorities opposing the Bill are Stafford and Crewe Corporations. Along with other matters, they object to the clause conferring upon Stoke-on-Trent and Newcastleunder-Lyme Corporations power to fix fares without reference to the Traffic Commissioners Alsager Urban District Council agrees in principle to the formation of the board and is not to oppose the Bill.
£246,000 ORDERS FOR BUSES?
NEXT month Manchester City CounNeil will be called upon to approve a programme involving the purchase of 120 buses to cost £224,000, and the construction of 22 double-decker bodies at the municipal workshops at a cost of £22,000.
Of the 120 buses, 80 will be doubledeckers and 40 single-deckers; 70 will be needed for replacements, and the remainder for new and augmented services.
CROSVILLE GAINS MONOPOLY.
BY a series of purchases recently completed, Crosville Motor Services, Ltd., Chester, has added to its North Wales routes the whole of the express and stage-carriage services from its base at Chester, via the coast road to Llandudno. A complete monopoly along this route has long been one of the aims of this enterprising concern.
B38