Leyland to Produce Flat-engind Bus?
22nd January 1937
Page 48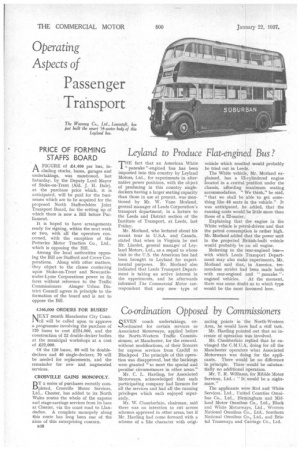 Page 48, 22nd January 1937 —
Leyland to Produce Flat-engind Bus?
Close
THE fact that an American White "pancake "-engined bus has been imported into this country by Leyland Motors, Ltd., for experiments in alternative power positions, with the object of producing in this country singledeckers having a larger seating capacity than those in use at present, was mentioned by Mr. W. Vane Morland, general manager of Leeds Corporation's transport department, in a lecture to the Leeds and District section of the Institute of Transport, at Leeds, last Friday.
Mr. Morland, who lectured about his recent tour in U.S.A. and Canada, stated that when in Virginia he met Mr. Liardet, general manager of Leyland Motors, Ltd., as a sequel to whose visit to the U.S. the American bus had been brought to Leyland for experimental• purposes, Mr. Morland also indicated that Leeds Transport Department is taking an active interest in the experiments, and he afterwards informed The Commercial Motor correspondent that any new type of
vehicle which resulted would probably be tried out in Leeds. The White vehicle, Mr. Morland explained, has a 121.cylindered engine located in a central position under the chassis, affording Maximum seating accommodation. "We think," he said, "that we shall be able to get something like 44 seats in the vehicle." It was anticipated, he added, that the running costs would be little more than those of a 32-seater.
Explaining that the engine in the White vehicle is petrol-driven and that the petrol consumption is rather high, Mr. Morland added that the power unit in the projected British-built vehicle would probably be an oil engine.
Referring to the rear-engined bus— with which Leeds Transport Department may also make experiments, Mr. Morland said that, in America, tremendous strides had been made both with rear-engined and "pancake " engined vehicles. At the moment, there was some doubt as to which type would be the most favoured here.