Co-ordination Opposed by Commissioners
22nd January 1937
Page 48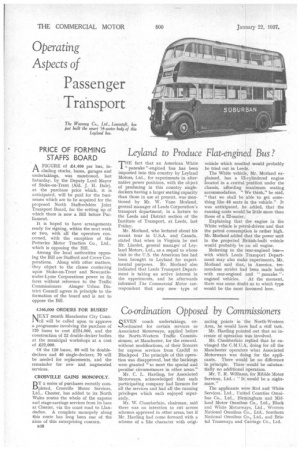 Page 48, 22nd January 1937 —
Co-ordination Opposed by Commissioners
Close
SEVEN coach undertakings, coordinated for certain services as Associated Motorways, applied before the North-Western Traffic Commissioners, at Manchester, for the renewal, without modifications, of their licences for express services from Cardiff to Blackpool The principle of this operation was disapproved, but the backings were granted "to meet the special and peculiar circumstances in other areas."
Mr. C. L. Harding, for Associated Motorways, acknowledged that each participating company had licences for all the services and had all the running privileges which each enjoyed separately.
Mr. W. Chamberlain, chairman, said there was no intention to cut across schemes approved in other areas, but if Mr. Harding had come forward with a scheme of a like character with origi
nating points in the North-Western Area, he would have had a stiff task. Mr. Harding pointed out that no increase of operation was involved.
Mr. Chamberlain replied that he envisaged the C.M.U.A. doing for all the Manchester operators what Associated Motorways was doing for the applicants. There would be no difference in principle. There would be substantially no additional operation.
Mr. T. R. Williams, for Ribble Motor Services, Ltd.: "It would be a nightmare."
The applicants were Red and White Services, Ltd., United Counties Omnibus Co., Ltd., Birrhingham and Midland Motor Omnibus. Co., Ltd., Black and White Motorw4ys, Ltd., Western National Omnibus Co., Ltd., Southern National Omnibus go., Ltd., and Bristol Tramways and (Carriage Co., Ltd.