Scottish C.M.U.A.
22nd January 1937
Page 37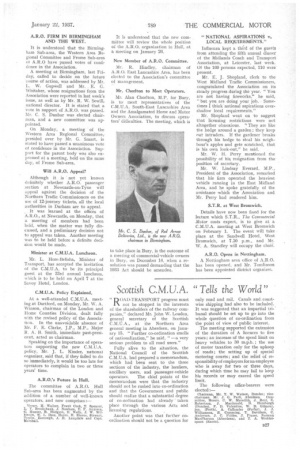 Page 37, 22nd January 1937 —
Scottish C.M.U.A.
Close
Keywords :
"Tells the World" " D GAD-TRANSPORT progress must
not be stopped in the interests of the shareholders of the railway companies," declared Mr. John W. Louden, general secretary of the Scottish C.M.U.A., at the Northern Area general meeting in Aberdeen, on January 15. "Further co-ordination smells of nationalization," he said, "—a very serious problem to all road users."
Fully alive to the situation, the National Council of the Scottish C.M.U.A. had prepared a memorandum, which had been sent to the three sections of the industry, the hauliers, ancillary users, and passenger-vehicle operators. The chief points of the memorandum were that the industry should not be rushed into co-ordination and that the Government and public should realize that a substantial degree of co-ordination had already taken place through the various Acts and licensing regulations. .
Another point was that further coordination should not be a question for only road and rail. Canals and coastwise shipping had also to be included. It was suggested that an impartial tribunal should be set up to go into the whole question of co-ordination from the point of view, of public interest.
The meeting supported the extension of the duration of A licences to five years; an increase of the speed limit on heavy vehicles to 30 m.p.h. ; the use of motor taxation only for the upkeep of roads; the setting up of special motoring courts; and the relief of responsibility of employers for an employee who is away for two or three days, during which time he may fail to keep his records or may exceed the speed limit.
The following office-bearers were elected :— Chairman, Mr. T. W. Watson, Dundee; vicechairman, Mr. J. G. Park, Aberdeen. Committee, Messrs. C. W. Meredith, J. Reid, E. Robertson, J. Macdonald, D. Horsburgh (Dundee), F. D. Valentine, W. D. Gilmour, (un. (Perth), A. Callander (Forfar), J. J. Williamson, R. Cumming, T. Davidson, C. Anderson, J. C. Pickles, .T. Fraser, Norman MacPherson (Aberdeen), and T. A. Wedder• spoon (bassist.