Oilers Advance in Latest Registration Returns
22nd January 1937
Page 33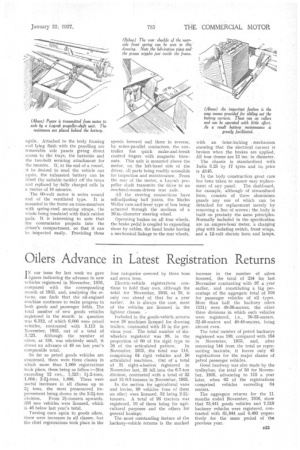 Page 33, 22nd January 1937 —
Oilers Advance in Latest Registration Returns
Close
IN our issue for last week we gave I•figures indicating the advance in new vehicles registered in November, 1936, compared • with the corresponding month of 1935, and, analySing the returns, one finds that the oil-enginecl machine continues to make progress in both goods and passenger fields. The total number of new goods vehicles registered in the month in question was 6,312, of which 6,006 were petrol vehicles, contrasted with 5,113 in November, 1935, out of a total of 5,321. Although the number of oilers, at 134, was relatively small, it shows an advance of 49 on last year's comparable total:
So far as petrol goods vehicles are concerned, there were three classes in which more than 1,000 registrations took place, these being as follow :—Not exceeding 12 cwt" 1,323 4-2-tons, 1,004; 2-24-tons, 1,886. There were useful increases in all classes up to 4 tons, the most pronounced improvement being shown in the 2-21-ton
division. From 2i-tonners upwards, 256 new vehicles were licensed, which
is 46 below last year's total, • Turning, once again to goods. oilers, there were increases in all classes, -hut the chief registrations took place in the
four categories covered by three tons and seven tons.
Electric-vehicle registrations continue to hold their own, although the total for November, 1936, at 70, is only one ahead of that for a year earlier. As is always the case, most of the vehicles •are licensed in the lightest classes.
included in the goods-vehicle returns were 28 'machines licensed for drawing trailers, contrasted with 15 in the previous year.' The ;total number of sixwheelers registered was 98, in the proportion of 60 of the rigid type to 38 of the articulated pattern. In November, 1935, the total was 114, comprising 64 rigid vehicles and ,50 articulated machines.. Out of a total of 31 eight-wheelers registered in November last, 22 fell into the 6-7-ton division, contrasted with a total of 22 and 13 6-7-tonners' in November, 1935.
In the section for, agricultural vans and lorries, 89 vehicles (one of them an oiler) Were licensed, 32 being 2-21tonners. A total of 26 tractors was registered, 10 of them being for agricultural purposes and the others for general haulage.
The most outstanding feature of the hackney-vehicle returns is the marked increase in the number of oilers licensed, the total of 234 for last November contrasting with 97 a year earlier, and constituting a big percentage of the aggregate total of 538 for passenger vehicles of all .types. More than half the hackney oilers (131) were 48-56-seaters, the other three divisions in which such vehicles were registered, i.e., 26-32-seaters, 32-40-seaters and 40-48-seaters, being almost even.
The total number of petrol hackneys registered was 189, compared with 164 in November, 1935, and, after removing 144 from the total as representing taxicabs, it leaves only 45 registrations for the major classes of petrol passenger vehicles.
Good headway was also made by the trolleybus, the total of 50 for November, 1935, advancing to 115 a year later, when 62 of the registrations comprised vehicles exceeding 64 seaters.
The aggregate returns for the 11 months ended November, 1936, show that 73,441 goods vehicles and 7,519 hackney vehicles were registered, contrasted with .61,844 and 6,493 respecT tively for the same period of the previous year.