COMPULSORY CO-ORDINATION UNDESIRABLE.
22nd January 1937
Page 29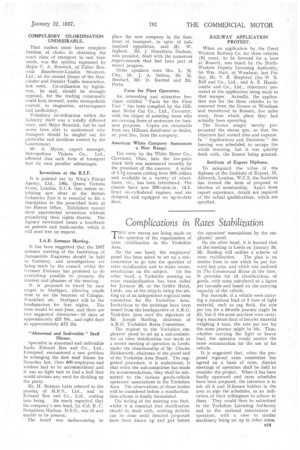 Page 29, 22nd January 1937 —
COMPULSORY CO-ORDINATION UNDESIRABLE.
Close
That traders must have complete freedom of choice in obtaining the exact class of transport to suit their needs, was the opinion expressed by Major G. A. Renwick, of Fisher Renwick Manchester-London Steamers, Ltd., at the annual dinner of the Manchester and District Traffic Association, last week. Co-ordination by legislation, he said, shoald be strongly opposed, for the trading community • could look forward, under monopolistic control, to stagnation, extravagance and inefficiency.
Voluntary co-ordination within the industry itself was a totally different story, said Major Renwick, hut he had never been able to understand why transport should be singledout for particular and invidious control by the Government.
Mr. A. Mycoe, export manager, Metropolitan Vickers Co., Ltd., affirmed that each form of transport had its own peculiar advantages.
Inventions at the B.I.F.
It is pointed out by King's Patent Agency, Ltd., •146a, Queen Victoria Street, London, E.C.4, that before exhibiting new ideas at the British Industries Fair it is essential to file a description in the prescribed form at the Patent Office. Exhibitors cannot show unprotected inventions without prejudicing their rights therein, The Agency mentioned issues a handbook on patents and trade-marks, which it will send free on request.
I.A.E. Summer Meeting.
It has been suggested that the 1937 summer meeting of the Institution of Automobile Engineers should be held in Germany, and investigations are being made by the council, whilst the German Embassy has promised to do everything possible to promote the interest and pleasure of the meeting: It is proposed to travel by easy stages to Stuttgart, allowing ample time to see the beauties of Cologne. Frankfurt, etc: Stuttgart will be the headquarters for four nights. • The time would he mid-June, and there are two suggested itineraries-10 days at approximately £,21 10s., and eight days at approximately 17 10s.
"Abnormal and Indivisible" Staff Dinner.
Specialist in abnormal and indivisible loads, Edward Box and Co., Ltd., Liverpool, encountered a new problem in arranging the first staff dinner for Saturday last. Over 400 employees and visitors had to be accommodated and it was no light task to find a hall that would obviate any need for dividing up the party.
Mr. H. Norman Letts referred to the passing of M.R.S., Ltd., and to Edward Box and Co., Ltd., coming into being. He much regretted that the company's new head, Lt.-Col. R. C. Donaldson Hudson, D.S.O., was ill and unable to be present.
The board was endeavouring to place the new company in the forefront of transport, in spite of rail, inspired opposition, said Mr. W. Ingham. Mr. J. Donaldson Hudson, who presided, dealt with the numerous improvements that had been part of recent progress.
Other speakers were Mrs. L. M. Clay, Mr. J. A. Sutton, Mr. M. Beedard, Mr. D. Karmel and Mr. Perks, Facts for Fleet Operators. .
An interesting and attractive brochure entitled "Facts for the Fleet User" has been compiled by the Hillman Motor Car Co., Ltd., Coventry, with the object of assisting those who are running fleets of motorcars for business purposes. Copies are obtainable from any Hillman distributor or dealer, or, post free, from the company, American White Company Announces a New Range.
The entry by the White Motor Co., Cleveland, Ohio, into the low-price truck field was announced recently by the president of the concern. A series of 1-liatonners costing from 985 dollars and available in a variety of wheelbases, etc., has been introduced. The chassis have new 250-cubic-in, (4.1litre) six-cylindered engines, and are designed and equipped on up-to-date lines. RAILWAY APPLICATION PROTEST.
When an application by the Great Western Railway Co. for three vehicles (9i tons), to be licensed for a base at Rossett, was heard by the NorthWestern Deputy Licensing Authority, Sir Wm. Hart, at Wrexham, last Friday, Mr. V. R. Shepherd (for W. B. Bell and Co., Ltd., and A. E. Handscombe and Co., Ltd" objectors) protested at the application being made in that manlier. Actually, the application was for the three vehicles to be removed from the licence at Wrexham and transferred to Rossett, five miles away, from which place they had actually been operating.
The licence sought merely perpetuated the status quo, so that the objectors had wasted time and expense: In "Applications and Decisions" the hearing was scheduled to occupy the whole morning, but it was quickly dealt with, the licence being granted.
Institute of Export Diploma.
To safeguard the value of the diploma of the Institute of Export, 11, Aldwych, London, W.C.2, the Institute has revised the form of proposal to election of membership. Apart from export experience, details are required of the actual qualifications, which are specified.
Tags
People
:
H. Norman Letts
,
L. M. Clay
,
R. C. Donaldson Hudson
,
D. Karmel
,
V. R. Shepherd
,
W. Ingham
,
A. Mycoe
,
G. A. Renwick
,
M. Beedard
,
J. Donaldson Hudson
,
J. A. Sutton