Complications in
22nd January 1937
Page 29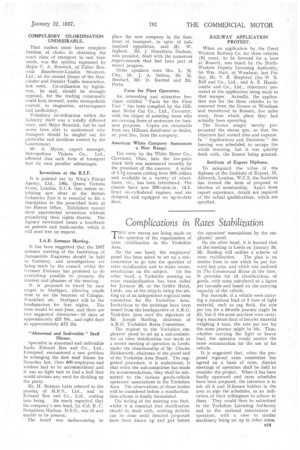 Page 29, 22nd January 1937 —
Complications in
Close
Rates Stabilization
TWO new moves are being made on the question of the organization of rates stabilization in the Yorkshire Area.
On the one hand, the employers' panel has been asked to set up a subcommittee to go into the question of rates stabilization and to make recom mendations on the subject. On the other hand, a Yorkshire meeting on rates standardization has been called for January' 26, at the Griffin Hotel, Leeds, one of the objects being the setting up of an independent regional rates committee for the Yorkshire Area. Invitations to the meetings have been issued from the headquarters of A.R.O. Yorkshire Area over the signature of Mr. Joseph Keeling, chairman of A.R.O. Yorkshire Rates Committee.
The request to the Yorkshire. employers' panel to set up a sub-committee on rates stabilization was made at a recent meeting of operators in Leeds, under the chairmanship of Mr. Charles Holdsworth, chairman of the panel and of the Yorkshire Area Board. The suggested procedure, it is understood, is that when the sub-committee has made its recommendations, they shall be submitted to the various goods-vehicle operators' associations in the Yorkshire Area. The observations of those bodies will be considered before a standardization scheme is finally formulated.
The feeling of the meeting was that, whilst it is essential that stabilization should be dealt with, nothing definite can he done until detailed proposals have been drawn up and put before the operators' associations by the employers' panel.
On the other hand, it is learned that at the meeting in Leeds on January 26, Mr. Keeling will outline a scheme of
rates stabilization. The plan is on similar lines to one which he put forward last year, and which was outlined in The Commercial Motor at the time. It provides for 15 classifications of goods, with rates calculated at a figure per ton-mile and based on the carrying capacity of the vehicle.
For example, if a vehicle were carrying a maximum load of 2 tons of light material, such as rag flock, the rate per ton for a 50-mile journey might be £1, but if the same machine were carrying a maximum load of heavier material weighing 4 tons, the rate per ton for the same journey might be 10s. Thus, whether carrying the light or heavy load, the operator would receive the same remuneration for the use of his vehicle.
It is suggested that, when the proposed regional rates committee has .agreed on a basis of rates, district meetings of operators shall be held to consider the project. When it has been finally approved and rates schedules have been prepared, the intention is to ask all A and B-licence holders in the area to sign the schedules, as an indication of their willingness to adhere to them. They would then be submitted to the Yorkshire Licensing Authority and to the national associations of operators, with a view to similar machinery being set up in other areas.