MINISTER OF HEALTH REJECTS GARAGE APPEAL.
22nd January 1937
Page 28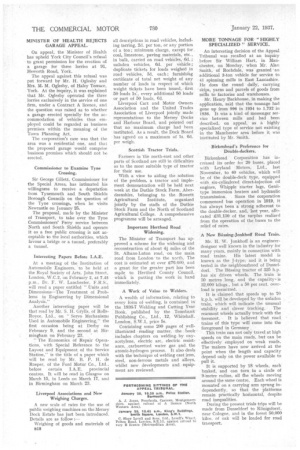 Page 28, 22nd January 1937 —
MINISTER OF HEALTH REJECTS GARAGE APPEAL.
Close
On appeal, the Minister of Health has upheld York City Council's refusal to grant permission for the erection of a garage for three lorries at 91. Heworth Road, York.
The appeal against, this refusal was put forward by Mr. H. Oglesby and Mrs. M.. M. Oglesby, of Haley Terrace, York, At the inquiry, it was explained that Mr. Oglesby operated the three lorries exclusively in the service of one firm, under a Contract A licence, and the question was raised as to whether a garage erected specially for the accommodation of vehicles thus employed could be regarded as business premises within the meaning of the Town Planning Act.
The corporation's case was that the area was a residential one, and that the proposed garage would comprise business premises which should not be erected.
Commissioner to Examine Tyne Crossing.
Sir George Gillett, Commissioner for the Special Areas, has intimated his willingness to receive a deputation from Tynemouth and South Shields Borough Councils on the question of the Tyne crossings, when he visits Newcastle on January 25.
The proposal, male by the Minister of Transport, to take over the Tyne Commissioners' Ferry service between North and South Shields and operate it as a free public crossing is not acceptable to the local authorities, which favour a bridge or a tunnel, preferably a tunnel.
Interesting Papers Before I.A.E.
At a meeting of the Institution of Automobile Engineers, to be held at the Royal Society of Arts, John Street, London, W.C.2, on February 2, at 7.45 p.m., Dr. F. W. Lanchester, F.R.S., will read a paper entitled " Units.and Dimensions—The Treatment of Problems in Engineering by Dimensional Analysis." ' Another interesting paper will be that read by Mr. S. II. Gfylls, of RollsRoyce, Ltd., on "Servo Mechanisms Used in Automobile Engineering," the first occasion being at Derby on February 9, and the second at Birmingham on February 23.
"The Economics of Repair Operations, with Special Reference to the Layout and Equipment of the Service Station," is the title of a paper which will be read by Mr. B. P. H. de Roeper, of the Ford Motor Co., Ltd., before certain I. A.E. provincial centres. It will be read in Glasgow on March 15, in Leeds on March 17, and in Birmingham on March 23.
Liverpool Associations and New Weighing Charges.
A new scale of rates for the use of public weighing machines on the Mersey Dock Estate has just been introduced. Details are as follow :— Weighing of goods and materials of BIB all descriptions in road vehicles, including tarring, 2d. per ton, or any portion of a ton ; minimum charge, except for coal, limestone, paving materials, etc., in bulk, carried on road vehicles, 6d.; unladen vehicles, 6d. per vehicle ; duplicate tickets for loads weighed in road vehicles, ad. each ; furnishing certificate of total net weight of any number of loads in respect of which weight tickets have been issued, first 50 loads 1s:, every additional 50 loads or part of 50 loads, 6d.
Liverpool Cart and Motor Owners Association and the United Trades Association of Liverpool jointly made representations to the Mersey Docks and Harbour Board, and pointed out that no maximum charge had been instituted. As a result, the Dock Board has agreed on a maximum of is. 6d. per weigh.
Scottish Tractor Trials.
Farmers in 'the north-east and other parts of Scotland are still in difficulties as to the most suitable type of tractor for their use.
With a view to aiding the solution of the problem, a tractor and implement demonstration will be held next week at the Duthie Stock Farm, Aberdeenshire, belonging to the Rowett Agricultural Institute, organized jointly by the staffs of the Duthie Stock Farm and the North of Scotland Agricultural College. A comprehensive programme will be arranged.
Important Hertford Road Widening.
The Minister of Transport has approved a scheme for the widening and • reconstruction of about 44 miles of the St. Albans-Luton road, on the main road from London • to the north. The cost is estimated at over £76,000, and a grant for the greater part has been made to Hertford County Council, which is putting the work in. hand immediately.
A Work of Value to Welders.
A wealth of information, relating to every form ofwelding, is contained in the 1936-7 Welding and Cutting Year Book, published by the Temsbank • Publishing Co., Ltd., .12, Whitehall, London, S.W.1, price 5s.
Containing some 200 pages of wellillustrated • reading matter, the took includes chapters on welding. by oxyacetylene, electric arc, electric resistance, carburetted water gas and, the atomic-hydrogen process. It also deals with the technique of welding cast iron, steel, non-ferrous metals and alloys, whilst new developments and equipment are reviewed. MORE TONNAGE FOR "HIGHLY SPECIALIZED" SERVICE.
An interesting decision of the Appeal Tribunal was recalled at an inquiry before Sir William Hart, in Manchester, on Monday, when Mr. Alan Smith, of Rochdale, was granted -an additional 3-ton vehicle for service to 41 spinning mills in East Lancashire. He does the round daily, carrying skips, yarns and parcels of goods from miffs to factories and warehouses.
Mr, Henry Backhouse, in making the application, said that the tonnage had gone up from 996 in 1934 to 1,732 in 1936. It was a kind of messenger service between mills and had been described, on appeal, as a highly specialized type of service not existing in the Manchester area before it was instituted by Mr. Smith.
Birkenhead's Preference for Double-deckers.
Birkenhead Corporation has increased its order for 20 buses, placed with Leyland Motors, Ltd., last November, to 40 vehicles. 'which will be of the double-deck type, equipped with six-cylin.dered direct-injection oil engines, Whipple starter lugs, Geniitype immersion heaters and hydraulic transmission. Since the corporation commenced bus operation in 1919, it has always been a strong adherent to the double-decker, and, last year, allocated £31,130 of the surplus realized from the operation of the buses to the relief of rates.
A New Biissing-Jonkhoff Road Train.
Mr. H. W. Jonkhoff is an engineerdesigner well known in the industry for many years, mainly in connection with road trains. His latest model is known as the 1-type; and it is being tested in the neighbourhood of Dusseldorf. The Bussing tractor of 325 h.p. has six driven wheels. The train is no metres long, and the capaCity• is 32,000 kilogs., but a 50 per cent. overload is permitted.
it is claimed that speeds up to 70 k.p.h. will be developed by the unladen train, which will indicate the unusual stability and clever tracking. The rearmost wheels actually track with the foremost. It is believed that road trains of this type will come into the foreground in Germany.
This train can not only travel at high speeds on the main roads, but can be effectively employed on weak roads. The'makers have now arrived at the point when the length and capacity depend only on the power available to pull it.
It is supported by 18 wheels, each braked, and can turn in a circle of 9-'metre radius, all the wheels moving around the same centre. Each wheel is mounted on a carrying arm sprung independently, so that the platforms remain practically horizontal, despite road inequalities.
During the present trials trips will be made from Dusseldorf to KOnigsforst, near Cologne, and in the forest 50,000 kilos. of oak will be loaded for road transport.
Tags
Organisations
:
United Trades Association of Liverpool
,
Institution of Automobile Engineers
,
Mersey Docks and Harbour Board
,
Dock Board
,
Royal Society of Arts
,
Rowett Agricultural Institute
,
Liverpool Cart and Motor Owners Association
,
Hertford County Council
,
York City Council
,
Appeal Tribunal
,
Scotland Agricultural College
Locations
:
Manchester
,
York
,
Cologne
,
Leeds
,
Glasgow
,
Dusseldorf
,
London
,
Birmingham
,
Derby
,
Liverpool
,
Newcastle