Personal Pars
22nd January 1937
Page 27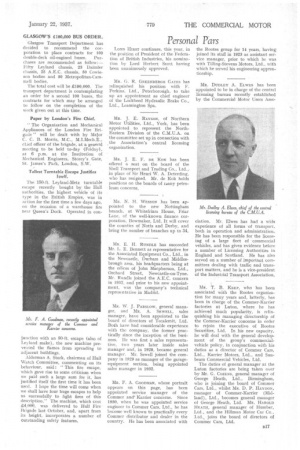 Page 27, 22nd January 1937 —
Personal Pars
Close
I.ORD HIRST continues, -this year, in the position of President of the Federation of British Industries, his nomination by Lord Herbert Scott having been unanimously approved.
MR. G. R. GREENDERGH GATES has relinquished his position with F. Perkins, Ltd., Peterborough, to take up an appointment as chief engineer of the Lockheed Hydraulic Brake Co., Ltd., Leamington Spa.
MR. J. E. RAYSON, of Northern Motor Utilities, Ltd., York, has been appointed to represent the NorthEastern Division of the C.M.U.A. on the committee set up in connection with the Association's central licensing organization.
MR. J. E. F. DE KOK has been offered a seat on the board of the Shell Transport and Trading Co., Ltd., in place of Sir Henri W. A. Deterding, who has resigned. Mr. de Kok holds positions on the boards of Drany petroleum concerns, MR. N. H. WESSON has been appointed to the new Nottingham branch, at Whitefriars House, Friar Lane, of the well-known finance corporation, Bowmaker, Ltd. It will cover the counties of Notts and Derby, and bring the number of branches up to 34.
MR. E. H. RUNDLE has succeeded Mr. L. E. Bennett as representative for the Associated Equipment Co., Ltd., in the Newcastle, Durham and Middlesbrough area, his headquarters being at the offices of John Macpherson, Ltd., Orchard Street, Newcastle-on-Tyne. Mr, Rundle joined the A.E.C. concern in 1932, and prior to his new appointment, was the company's technical representative in Madrid.
MR. W. J. PARSLOW, general manager, and MR. A. SEWELL, sales manager, have been appointed to the board of directors of Tecalernit, Ltd. Both have had considerable experience with the company, the former practically since the inception of the business. He was first a sales representative, two years later inside sales manager and, in 1928, became general manager, Mr. Sewell joined the company in 1929 as manager of the garageequipment section, being appointed sales manager in 1932.
MR. F. A. GOODMAN, whose portrait appears on this page, has been appointed service manager of the Commer and Karrier concerns. Since 1930, when he was appointed service engineer to Commer Cars, Ltd., he has become well known to practically every Commer distributor and dealer in the country. He has been associated with the Rootes group for 14 years, having joined its staff in 1923 as assistant service manager, prior to which he was with Tilling-Stevens Motors, Ltd., with which he served his engineering apprenticeship.
MR. DUDLEY A. ELwEs has been appointed to he in charge of the central licensing bureau recently established by the Commercial Motor Users Asso
elation. Mr. Elwes has had a wide experience of all forms of transport, both in operation and administration. He has been responsible for the licensing of a large fleet of -commercial vehicles, and has given evidence before a number of Licensing Authorities in England and Scotland. He has also served on a number of important committees dealing with traffic and transport matters, and he is a vice-president of the Industrial Transport Association.
MR. T. B. KEEP, who has been associated with the Rootes organization for many years and, latterly, has been in charge of the Commer-Karrier factories at Luton, where he has achieved much popularity, is relinquishing his managing directorship of the Commer-Karrier concerns in order to rejoin the executive of Rootes Securities, Ltd. In his new capacity, he will deal with the general development of the group's commercialvehicle policy, in conjunction with his duties as a director of Commer Cars, Ltd., Karrier Motors, Ltd., and Sunbeam Commercial Vehicles, Ltd.
The duties of general manager at the Luton factories are being taken over by Mr. G. COZENS, general manager of George Heath, Ltd., Birmingham, who is joining the board of Commer Cars, Ltd., whilst MR. D. P. HAYDON, manager of Commer-Karrier (Midland), Ltd., becomes general manager of George Heath, Ltd. MR. HAROLD HEATH, general manager of Humber, Ltd., and the Hillman Motor Car Co., Ltd., joins the board of directors of Commer Cars, Ltd.
Tags
People
:
W. J. PARSLOW
,
HAROLD HEATH
,
T. B. KEEP
,
E. H. RUNDLE
,
L. E. Bennett
,
F. A. GOODMAN
,
G. COZENS
,
D. P. HAYDON
,
J. E. RAYSON
,
N. H. WESSON
,
Herbert Scott
,
Henri W. A. Deterding
,
A. SEWELL