GLASGOW'S £180,000 BUS ORDER.
22nd January 1937
Page 27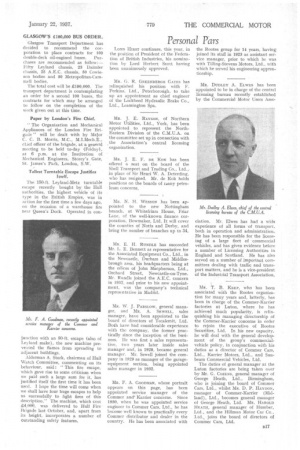 Page 27, 22nd January 1937 —
GLASGOW'S £180,000 BUS ORDER.
Close
Glasgow Transport Department has decided to recommend the corporation to place contracts for 100
double-deck oil-engined buses. Purchases are recommended as follow;.— Fifty Leyland chassis, 25 Daimler chassis, 25 A.E.C. chassis, 50 Cowieson bodies and 50 Metropolitan-Cammell bodies.
The total cost will be £180000. The transport department is contemplating an order for a second 100 buses, the contracts for which may be arranged to follow on the completion of the work given out at this time.
Paper by London's Fire Chief.
The Organization and Mechanical Appliances of the London Fire Brigade" will be dealt with by Major C. C. B. Morris, M.C., M.I,Mech.E., chief officer of the brigade, at a general meeting to be held to-day (Friday), at 6 p.m. at the Institution of Mechanical Engineers, Storey's Gate, St. James's Park, London, S.W.
Tallest Turntable Escape Justifies Itself.
The 150-ft. Leyland-Metz turntable escape recently bought by the Hull authorities, the highest vehicle of its type in the British Empire, was in action for the first time a few days ago, on the occasion of a warehouse fire near Queen's Dock. Operated in con junction with an 80-ft. escape (also of Leyland make), the new machine prevented the flames from spreading to adjacent buildings.
Alderman A. Stark, chairman of Hull Watch Committee, commenting on its behaviour, said : "This fire escape, which gave rise to some criticism when we paid such a large sum for it, has justified itself the first time it has been used, I hope the time will como when we shall have four huge escapes to help us successfully to fight fires of this description." The machine, which cost 4,000, was delivered to Hull Fire Brigade last October, and, apart from its height, incorporates a number of outstanding safety features.