P assing Comments
22nd January 1937
Page 24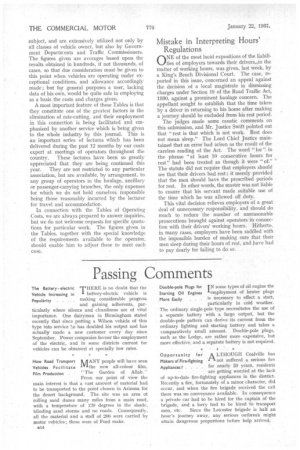 Page 25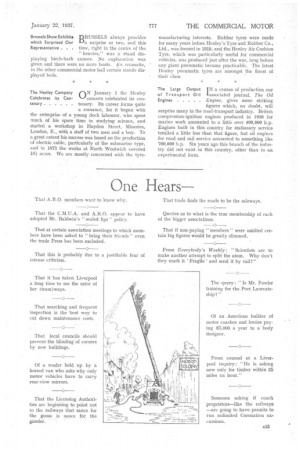 Page 24, 22nd January 1937 —
P assing Comments
Close
The Battery. electric THERE is no doubt that the Vehicle Increasing in I battery-electric vehicle is Popularity . . . . making considerable progress and gaining adherents, particularly where silence and cleanliness are of vital importance. One dairyman in Birmingham stated recently that since putting a Wilson vehicle of this type into service he has doubled his output and has actually made a new customer every day since September. Power companies favour the employment of the electric, and in some districts current for vehicles can be obtained at specially low rates.
How Road Transport NA ANY people will have seen Vehicles Facilitate ivithe new all-colour film, Film Production . "The Garden of Allah."
From our point of view the main interest is that a vast amount of material had to be transported to the point chosen in Arizona for the desert background. The site was an area ot rolling sand dunes many miles from a main road, with a temperature of 120 degrees in •the shade, blinding sand storms and no roads. Consequently, all the material and a staff of 200 were carried by motor vehicles; these were of Ford make.
Double-pole Plugs for JN some types of oil engine the
Starting Oil Engines
employment of heater plugs is necessary to effect a start,
More Easily . . particularly in cold weather.
The ordinary single-pole type necessitates the use ot a separate battery with a large output, but the double-pole pattern can derive its current from the ordinary lighting and starting battery and takes a comparatively small amount. Double-pole plugs, such as the Lodge, are rather more expensive, but more effective, and a separate battery is not required.
Opportunity for A LTHOUGH Coalville has Makers of Fire-fighting I-1 not suffered a serious fire Appliances ? . . . . for nearly 20 years, residents
are getting worried at the lack of up-to-date fire-fighting appliances in the district. Recently a fire, fortunately of a minor character, did occur, and when the fire brigade received the call there was no conveyance available. In consequence a private car had to be hired for the captain of the brigade, and a lorry had to be hired to transport men, etc. Since the Leicester brigade is half an hour's journey away, any serious outbreak might attain dangerous proportions before help arrived.
Brussels Show ,Exhi bits • rotRUSSELS always provides which Surprised Our J-Ja surprise or two, and this Representative . . . time, right in the centre of the "heavies," was a stand displaying birch-bark canoes. No explanation was given and there were no more boats. En revanche, in the other commercial motor hall certain stands displayed beds.
The Henley Company ON January 1 the Henley Celebrates its Cenconcern celebrated its cen tenary tenary. Its career forms quite a romance, for it began with the enterprise of a young dock labourer, who spent much of his spare time in studying science, and started a workshop in Haydon Street, Minories, London, E., with a staff of two men and a boy. To a great extent his success was based on the production of electric cable, particularly of the submarine type, and in 1873 the works at North Woolwich covered 161 acres. We are mostly concerned with the tyre manufacturing interests. Rubber tyres were made for many years before Henley's Tyre and Rubber Co., Ltd., was formed in 1919, and the Henley Air Cushion Tyre, which was particularly useful for commercial vehicles, was produced just after the war, long before any giant pneumatic became practicable. The latest Henley pneumatic tyres are amongst the finest at their class.
The Large Output TN a census of production our of Transport Oil 'associated journal, The Oil' Engines Engine, gives some striking figures which, no doubt, will surprise many in the road-transport industry. British compression-ignition engines produced in 1936 for marine work amounted to a little over 400,000 h.p. Engines built in this country for stationary service totalled a little less than that figure, but oil engines for road and rail service amounted to something like 700,000 h.p. Six years ago this branch of the industry did not exist in this country, other than in an experimental form.