Road Neglect Condemned
22nd January 1937
Page 23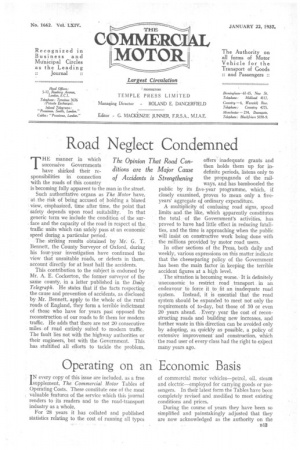 Page 23, 22nd January 1937 —
Road Neglect Condemned
Close
THE manner in which successive Governments have shirked their responsibilities in connection with thern roads of this country is becoming fully apparent to the man in the street.
Such authoritative organs as The Motor have, at the risk of being accused of holding a biased view, emphasized, time after time, the point that safety depends upon road suitability. In that generic term we include the condition of the surface and the capacity of the road in respect of the traffic units which can safely pass at an economic speed during a particular period.
Thestriking results obtained by Mr. G. T. Bennett, the County Surveyor of Oxford, during his four-year investigation have confirmed the view that unsuitable roads, or defects in them, account directly for at least half the accidents.
This contribution to the subject is endorsed by Mr. A. E. Cockerton, the former surveyor of the same county, in a letter published in the Daily Telegraph. He states that if the facts respecting the cause and prevention of accidents, as disclosed by Mr. Bennett, apply to the whole of the rural roads of England, they form a terrible indictment of those who have for years past opposed the reconstruction of our roads to fit them for modern traffic. He adds that there are not 20 consecutive miles -of road entirely suited to modern traffic. The fault lies not with the highway authorities or their engineers, but with the. Government. This has stultified all efforts to tackle the problem,
The Opinion ditions are of Accidents
That Road Conoffers inadequate grants and the Major Cause definite periods, listens only to is Strengthening the propaganda of the rail ways, and has bamboozled the public by its five-year programme, which, if closely examined, proves to mean only a fiveyears' aggregate of ordinary expenditure.
A multiplicity of confusing road signs, speed limits and the like, which 4pparent1y constitutes the total of the Government's activities, has proved to have had little effect in reducing fatalities, and the time is approaching when the public will insist on constructive work being done with the millions provided by motor road users.
In other sections of the Press, both daily and weekly, various expressions on this matter indicate that the cheeseparing policy of the Government has been the main factor in keeping the terrible accident figures at a high level.
. The situation is becoming worse.. It is definitely uneconomic to restrict road transport in an endeavour to force it to fit an inadequate road system. Instead, it is essential that the road system should be expanded to meet not only the requirements of to-day, but those of 10 or even 20 years ahead. Every year the cost of reconstructing roads and building new increases, and further waste in this direction can be avoided only by adopting, as quickly as possible, a policy of extensive improvement and construction, which the road user of every class had the right to ex-pect many years ago.