News and Comment.
22nd January 1914
Page 6
Page 7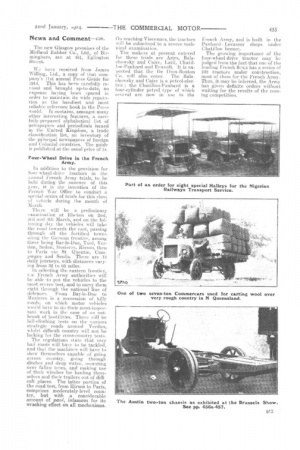 Page 6, 22nd January 1914 —
News and Comment.
Close
This journal is extensively read by the heads of many wealthy commercial houses.
Topical Subjects.
Our leading articles this week deal with the following topical subjects: (1) " Steam 11, agons Freed for Australia ; " (2) " North of England (Manchester) First Show
Number ; " (3) " Metal-track Troughs for Motor Fire-engines ; " (4) " Motorcab Owners and Motorbus Competition ; " (5) " Provincial Representation on the C.M.U.A. General Committee ; " (6) "Running on Snow ;" and (7) "
Road Waves and Points." Straker-Squire (1913), Ltd.
Mr. Sidney Straker presided at the statutory meeting of StrakerSquire (1913), Ltd., on the 15th
inst. He reported a heavy augmentation of sales in all departments, representing approximately 30 per cent. advance as compared with the corresponding period last year. Mr. Straker was able to refer to a gratifying list of new and repeat orders from buyers of commercial motors, including customers with such, household names as Maple and Co., Ltd., Carter, Paterson and Co., Ltd., and W. and R. Jacob and Co., Ltd., whilst of municipal orders he cited recent ones from the Southend and Liver
pool Corporations. The outlook for the newly-extended StrakerSquire undertaking is apparently most 'encouraging, and the company's Overseas business is also maintained well above the average.
The Snowfall in Berlin.
Our Berlin correspondent writes: "The snowfall in Berlin at the close of the Old Year was the heaviest locally recorded. for a century. It practically paralysed horse-traffic. Horse-drawn omnibuses and cabs ceased running. The former might perhaps have been worked over several routes, but at a terrible cost of equine material. Most of the horsed lorries to be seen were drawn laboriously by double teams. As on former occasions, motorbuses and motor-taxis triumphed all round, ploughing their way through the masses ef snow with consummate ease. And I need scarcely add that, in spite of a lavish distribution of salt and the use of motor snow-ploughs, the tramcar company experienced the utmost difficulty in working its vek,icleson many lines it could not work them all. The triumph of the motorbus was signal and complete."
BD°
The Chesham Supply Co., Ltd., recently offered 150,01/0 preference shares of .21 each, of which 45,000 had been subscribed by the directors and their friends, for public subscription. The company specializes in the hire-purchase of TJnic cabs.
The tender of the National Motor Cab Co., Ltd., has been received by the Education Committee of the L.C.C., for the supply of an ambulance, for five years, at an annual charge of ,E426' 5s., up to a mileage of 9000 miles per annum ; the tender of Thos. Tilling, Ltd., has been accepted by the Stores Committee of the L.C.C., for the supply on hire, for three years, of a one-ton motor van, for £460 a year, any excess mileage over 15,000 miles a year to be charged additionally at the rate of 3d. a Mile.
W. and G. Expresses.
The motor express parcels delivery, for which W. and G. du Gros, Ltd., of Acton Yale, W., is responsible, is now further extended so as to give service in the Bushey, Dartford, Egham, Eton, Hillingdon, Leatherhead, Northwood, Redhill, Reigate, Rumford, Slough, Staines, Stanmore, St. Albans, Uxbridge, Waltham Cross, Waltham Abbey, Watford, and Windsor areas and intermediate districts. There are now two "W. and G." deliveries daily, at ordinary London and suburban rates, and these will be increased from time to time, as occasion arises.
More Motor Mails.
The Surveyor for the South Wales District, G.P.O., Cardiff, is desirous to receive tenders, on or before the 2nd prox., for the conveyance of maximum loads of S cwt. of mails, between Haverfordwest, and Goodw iek.
" A.T." Speedometers.
Leyland Motors, Ltd., after long experience, has written as under to Messrs. Leo Swain and. Co., 237239, Deansgate, Manchester, the North of England agents for the " A.T." speedometers :— " Up till the time we first came across the AT.' speedometer, when it was first put on the English market, some years ago, we had not found one which would give satisfaction. We are pleased to say that we have had next to no trouble at all with the AT.' speedometer during all the time that we have used it. It is very good value, and is perfectly satisfactory.
"We have great pleasure in send_ ing you herewith our order for the speedometers we shall require for our 1914 output." [Estimated at nat less than 400 vehicles to be so fitted.—En.]
The new Glasgow premises of the Midland Rubber Co., Ltd., of Birmingham, are at 451, liglington Street.
We have received from James Willing, Ltd., a copy of that company's list annual Press Guide for 11914. This has been carefully revised and brought up-to-date, no expense having been spared in order to maintain its wide reputation as the handiest and most reliable reference book in the. Press world. It e.ontains, amongst many other interesting features, a carefully-prepared alphabetical list of newspapers and periodicals issued in the United Kingdom, a trade classification list, an inventory of the principal newspapers of foreign and Colonial -countries. The guide is published at the usual price of is.
Four-Wheel Drive in the French Army.
In addition to the provision for fourwheel-drive tractors in the annual French Army trials, to be held during the summer of this year, it is the intention of the French War Office to conduct a special series of trials for this class of vehicle during the month of March.
'nitre will be a preliminary examination at Rheims on 2nd, 3rd and lth March, and on the following -day the vehicles will take the road towards the east, passing through all the fortified towns along the 0 e.rnian frontier, among these being Bar-le-Duc, Toni, Verdun, Sedan, Mezieres, Hirson, then to Paris via St. Quentin, Compiegne and Senlis. There are 13 daily journeys, with distances varying from 32 to 65 miles.
In selecting the eastern frontier, toe French Army authorities will be able to put the vehicles to the most-severe test, and to carry them right through the national line of defences. From. Bar-le-Due to Mezicres is asuccession of hilly roads, on which motor vehicles would have to do their most-important work in the case -of an outbreak of hostilities. There will be Ii ill-climbingtests on the various strategic roads around Verdun, whilst difficult country will not be lacking for the cross-country tests.
The regulations state that very bad roads will have to be tackled, and that the Machines will have to show themselves capable of going across country, going through ditches and deep water, mounting over fallen trees, and making use of their winches for hauling themselves and their trailers out of diffi cult places. The latter portion of the road test, from Hirson to Paris, comprises moderately-level country, but with a considerable amount of pave, infamous for its wracking effect on all mechanisms. On reaching Vincennes, the tractors will be submitted to a severe technical examination.
The makers at present entered for these trials are Aries, Bala.ehowsk,y and C.aire, Latil, Chatillon-Panhard and Renault. It is expected that the De Dion-Bouton
Co. will also enter. The Balaehowsky and Cairo is a petrol-electric ; the Chatillon-Panhard is a four-cylinder petrol type of which several are n-ow in use in the
French Army, and is built in the Panhard Levassor shops under Chatillon licence.
The growing importance of the four-wheel-drive tractor may be judged from the fact that one of the leading French fi,:rus has a series of 100 tractors under construction, most of them for the French Army. Thus, it may he inferred, the Army has given definite orders without waiting for the results of the corning competition.
Tags
Locations
:
Manchester
,
Berlin
,
Balaehowsky
,
Waltham Abbey
,
Slough
,
Cardiff
,
Watford
,
Hirson
,
Cairo
,
Glasgow
,
London
,
Birmingham
,
Windsor
,
Paris