The Purchase Department.
22nd January 1914
Page 19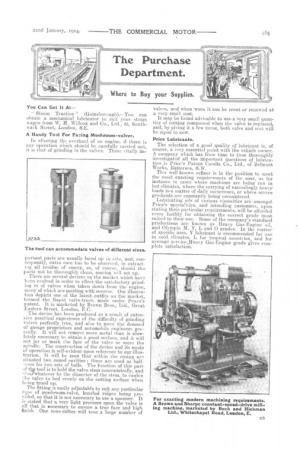 Page 19, 22nd January 1914 —
The Purchase Department.
Close
Where to Buy your Supplies.
You Can Get It At— Steam Traction" (Gainsborough).—You can obtain a. mechanical lubricator to suit your steam wagon from W, H. Willcox and Co., Ltd., 23, Southwark Street, London, S.E.
A Handy Tool For Facing Mushroom-valves.
In effecting the overhaul of an engine, if there is any operation which should be carefully carried out, it is that of grinding in valves. These vitally im
portent. parts are usually faced up in situ, and, consequently, extra care has to he observed, in extracting all residue of emery, as, of course, should the parts not be. thoroughly clean, scoring. will set up.
There are several devices oa the market which have been evolved in order to effect the satisfactory grinding in of valves when taken down from the engine, many of which are meeting with success. Our illustration depicts one of the latest,outfits on the market, termed the Rapid valve-truer, made under Pearn's patent. It is marketed by Brown Bros., Ltd., Great .Eastern Street, London, E.C.
The device has been produced as a result of extensive practical experience of the difficulty of grinding valves perfectly true, and also to meet the demand of garage proprietors and automobile engineers generally. It will not remove more metal than is absv.lutely necessary to obtain a good surface, and it will not jar or mark the face of the valve or score the spindle. The construction of the device and its mode of operation is self-evident upon reference to our illustration. It will be seen that within the casing aro situated two coned cavities ; these are used as ball-. .aces for two sets of halls. The function of this part.
t.of tooltool is to hold the valve stem concentrically, and ...11so-whatever be the diameter of the stem, to evable lie valve to bed evenly on the cutting surface when being trued up.
The fitting is easily adjustable to suit any particular tnne of mushroom-valve, knurled ridges being provided, so that it is not necessary to use a spanner. It is stated that a very light pressure upon the valve is all that is vecessary to ensure a true face and high finish. One cone-cutter will true a large number of valves, and when worn it can be recut or renewed at a very small cost. It may be found advisable to use-n, very small quantity of cutting compound when the valve is replaced, and, by giving it a few turns, both valve and seat will be equal to new.
Price Lubricants.
The selection of a good quality of •lubricant is, of course, a very essential point with the vehicle owner. A company which has from time to time thoroughly investigated all the important questions of lubrication is Price's Patent Candle Co., Ltd., of Belmont Works, Battersea, S.W.
This well-known refiner is in the position to meet the most exacting requirements of the user, as for instance in cases where machines are being run in hot climates, where the carrying of exceedingly heavy loads is.a matter of daily occurrence, or where severe gradients are constantly being encountered.
Lubricating oils of various viscosities are amongst. Price's specialties, and intending customers, upon stating their particular requirements, will he afforded every facility for obtaining the correct grade most. suited to their use. Some of the company's standard productions are known as Heavy Gas-Engine oil, and Olympia M, Y, L and 0 grades. In the matterof specific uses, Y lubricant is recommended for use in cold, climates. L for tropical countries,, and for average servicei,lleavy Gas-Engine grade gives complete satisfaction.