WHAT CAUSES ROAD WAVES?
22nd January 1914
Page 12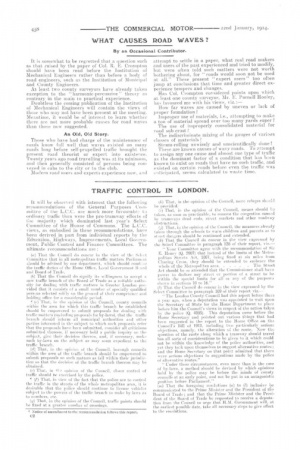 Page 12, 22nd January 1914 —
WHAT CAUSES ROAD WAVES?
Close
By an Occasional Contributor.
It is somewhat to be regretted that a question such as that raised by the paper of Col. R. E. Crompton should have been read before the Institution of Mechanical Engineers rather than before a body of road engineers, such as the Institution of Municipal and County Engineers.
At least two county surveyors have already taken exception to the " harmonic-percussive " theory as contrary in the main to practical experience.
Doubtless the coming publication of the Institution of Mechanical Engineers will contain the views of those who may not have been present at the meeting. Meantime, it would be of interest to learn whether there are not more probable causes for road waves than those now suggested.
An Old, Old Story.
Those who have had charge of the maintenance of roads know full well that waves existed on many roads long before self-propelled traffic brought the present road theorist or expert into existence. Twenty years ago road travelling was at its mininintn, and then generally consisted of persons being conveyed in cabs to the city or to the club. Modern road users and experts experience now, and attempt to settle in a paper, what real road makers and users of the past experienced and tried to modify, but were often told such matters were not worth bothering about, for " roads would soon not be used at all." These present "expert users" too often jump at conclusions that time and greater direct experience tempers and changes. Has Col. Crompton considered points upon which at least one county surveyor, Mr. E. Purnell Hooley, has favoured me with his views, viz.:— How far waves are caused by uneven or lack of proper foundation ? Improper use of materials, i.e., attempting to make a ton of material spread over too many yards super ? The use of improperly consolidated material for road sub-crust ?
The indiscriminate mixing of the gauges of various classes of materials ?
Steam-rolling unwisely and unscientifically done? These are known causes of wavy roads. To attempt to assign any one cause and almost one type of traffic as the dominant factor of a condition that has 12e2.en known to exist on roads that have no such traffic, and existed on certain roads before even the traffic was ;:etieipated, seems calculated to waste time