B.T.C. Research Plan Takes Shape
22nd December 1950
Page 35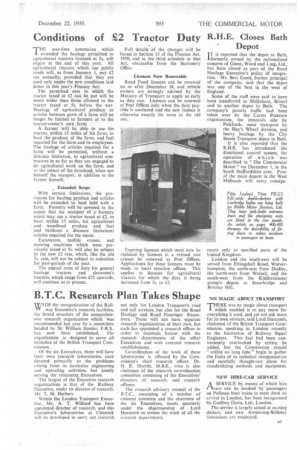 Page 35, 22nd December 1950 —
B.T.C. Research Plan Takes Shape
Close
WITH the reorganization of the Railway Executive's research facilities, the broad structure of the comprehensive research organization which ' was recommended last year by a committee headed by Sir William Stanier, F.R.S., has now been established. The organization is designed to serve all branches of the British Transport Commission.
Of the six Executives, three will have their own research laboratories, each devoted primarily to the problems arising from its particular engineering and operating activities, but jointly serving the remaining Executives.
. The largest of the Executive research organizations is that of the Railway Executive, under its director of research, Mr. T. M. Herbert: Within the London Transport Executive, Mr. A. T. Wilford has been appointed director of research, and this Executive's laboratories at Chiswick will be developed to carry out research not only for London Transport's road and rail services, but also for the Road Haulage and Road Passenger Executives. These will not have separate research organizations of their own, but each has appointed a research officer in order to maintain liaison with the research departments of the other Executives and with external research establishments.
Co-ordination of the work of these laboratories is effected by the Commission's chief research officer, Dr. H. E. Merritt, M.B.E., who is also chairman of the research co-ordination committee consisting of the Executives' directors of _ research, and research officers.
The research advisory council of the R.T.C., consisting of a number of eminent scientists and the chairmen of the six Executives, meets quarterly under the chairmanship of Lord Hurcomb to review the work of all the research departments.