Tribunal Refuses Second Vehicle
22nd December 1950
Page 34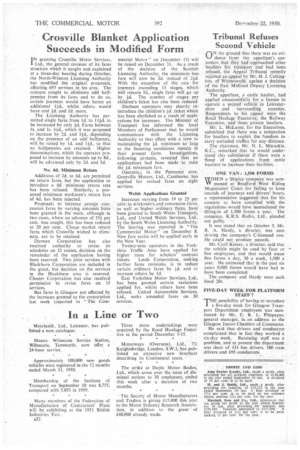 Page 34, 22nd December 1950 —
Tribunal Refuses Second Vehicle
Close
ON the ground that there was no evidence from the appellant's customers that they had approached other hauliers for transport and had been refused, the Appeal Tribunal recently rejected an appeal by Mr. H.1. Coilington, of Wymeswold, against a decision of the East Midland Deputy Licensing Authority.
The appellant, a cattle haulier, had applied unsuccessfully for a licence to operate a second vehicle in Leicestershire and surrounding counties. Respondents to his appeal were the Road Haulage Executive, the Railway Executive, and three private hauliers.
Mr. L. McLaren, for the Executives, submitted that there was a temptation for hauliers to exploit the freedom to carry excluded traffics for any distance.
The chairman, Mr. N. L. Macaskie, K.C., remarked that he would understand this submission if there were a flood of applications from cattle hauliers to increase their facilities.
ONE VAN : 1,500 FORMS
WHEN a Shipley 'company .was summoned at Bradford West Riding Magistrates' Court for failing to keep
• records of journeys and drivers' hours, a representative suggested that for his concern to have complied with the regulations would have necessitated the filling-in of 1,500 forms a year. The company, K.R.S. Radio, LW., pleaded not guilty. • It was stated that on October 9, Mr. R. A. Hardy, a director, was seen driving the company's C-licensed van. He could not produce records.
Mr. Cyril Kinsey, a director, said that the vehicle might be used by four or five employees, and that would mean five forms a day, 30 a week, 1,500 a year. He estimated that in the past six years 9,000 forms would have had to have been completed.
The company and Hardy were each fined 20s.
FIVE-DAY WEEK FOR PLATFORM STAFF?
THE possibilityof having to introduce a five-day week for Glasgow Transport Department employees was mentioned be Mr. E. R. L. Fitzpayne. general manager, in an address to the Glasgow Junior Chamber of Commerce.
He said that drivers and conductors complained that in fact they worked a six-day week. Retaining staff was a problem, and at present the department was short of 131 bus drivers. 180 tram drivers and 195 conductors.