In a Line or Two
22nd December 1950
Page 34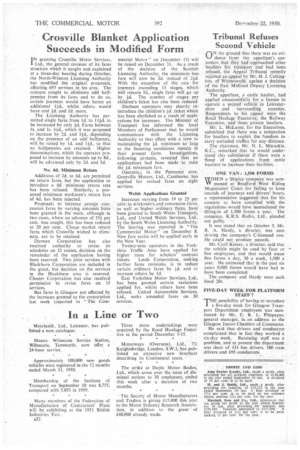 Page 34, 22nd December 1950 —
In a Line or Two
Close
Metatastik, Ltd., Leicester, has published a newcatalogue.
Messrs. Wilnecote Service Station, Wilnecote, Tarnworth, now oiler a 24-hour service.
Approximately 100,000 new goods vehicles were registered in the 12 months ended March 31, 1950.
Membership of the Institute of Transport on September 30 was 8,755, compared with 5.053 in 1939, Many members of the Federation of Manufacturers of Contractors' Plant will be exhibiting at the 1951 British Industries Fair. Three more undertakings were acquired by the Road Haulage Executive in the period December 1-15.
Motorways (Overseas), Ltd., 71; Knightsbridge, London, S.W.1, has published an attractive new brochure describing its Continental tours.
The strike at Duple Motor Bodies, Ltd., which arose over the issue of dismissal notices to 30 employees, ended this week after a duration of two months.
The Society of Motor Manufacturers and Traders is giving £15,000 this Year to the Motor Industry Research Association, in addition to the grant of £40,000 already made.