New Edinburgh-London Service?
22nd December 1950
Page 32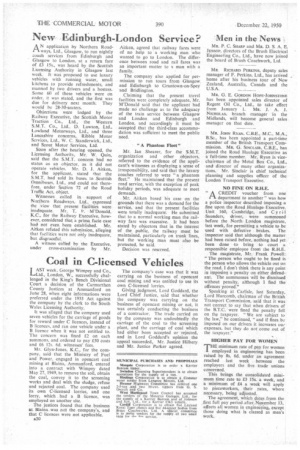 Page 32, 22nd December 1950 —
New Edinburgh-London Service?
Close
PiA N application by Northern Roadways, Ltd., Glasgow, to run nightly roach services from Edinburgh and Glasgow to London. at a return fare of £3 15s., was heard by the Scottish Licensing Authority in Glasgow last week. It was proposed to use luxury vehicles with running water, small kitchens to provide refreshments, and manned by two drivers and a hostess. Some 60 of these vehicles were on order. it was stated, and the first was due for delivery next month. They would be 28-30-seaters.
Objections were lodged by the Railway Executive, the Scottish Motor Traction Co., Ltd., the Western S.M.T. Co., Ltd.. D. Lawson, Ltd., Lowland Motorways, Ltd., and three Lancashire concerns. Ribble Motor Services, Ltd.. W. C. Standerwick, Ltd., and Scout Motor Services, Ltd.
Soon after the -hearing opened, the Licensing Authority, Mr. W. Quin, said that the S.M.T. concern had no status at; an objector. as it did not operate vehicles. Mr. D. J. Aitken, for the applicant, stated that the S.M.T. had sold its buses to -Scottish Omnibuses, Ltd., and could not therefore. under Section 72 of the Road Traffic Act, object.
Witnesses called in support of Islarthern Roadways, Ltd., expressed the view that present facilities were inadequate. Mr. T. P. M'Donald, KC., for the Railway Executive. however, considered that a prima facie case had not even been established. Mr. Aitken refuted this submission, alleging that facilities were not only inadequate, but. disgraceful.
A witness called by the Executive, under cross-examination by Mr. Aitken, agreed that railway fares were of no help to a working man who wanted to go to London. The difference between road and rail fares was an important matter to a man with a The company also applied for permission to run tours from Glasgow and Edinburgh to Gmntown--on-Spey and Bridlington.
Claiming that the present travel facilities were completely adequate, Mr. M'Donald said that the applicant had made no challenge as to the adequacy of the train service between Glasgow and London and Edinburgh and London, and accordingly it must be accepted that the third-class accommodation was sufficient to meet the public need.
"A Phantom Fleet" Mr. Ian Shearer, for the S.M.T. organization and other objectors, referred to the evidence of the applicant's witnesses as displaying a sense of irresponsibility, and said that the luxury coaches referred to were "a phantom fleet." He maintained that the present road service, with the exception of peak holiday periods, was adequate to meet demands.
Mr. Aitken based his case on the grounds that there was a demand for the service, and that the present facilities were totally inadequate. He submitted that to a normal working man the railway fare was excessive. It had been stated by objectors that in the interest of the public, the railway must be maintained, particularly on trunk lines, but the working man must also be protected, he said.
Decision was reserved.