Coal in C-lice nsed Vehicles
22nd December 1950
Page 32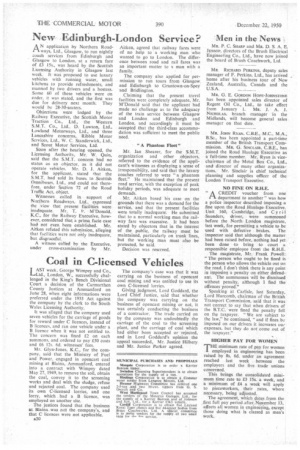 Page 32, 22nd December 1950 —
Coal in C-lice nsed Vehicles
Close
LAST week. George Wimpey and Co., Ltd., London, W., successfully challenged in the King's Bench Divisional Court a decision of the Carmarthen County Justices at Ammanford on June 28, when eight informations were preferred under the 1933 Act against the company by the clerk to the South Wales Licensing Authority.
It was alleged that the company used seven vehicles for the carriage of goods for reward under C licences, instead of B licences, and ran one vehicle under a B licence when it was not entitled to. The concern was fined £2 on each summons, and ordered to pay £50 costs and £6 12s. hd. witnesses' fees.
Mr. Glyn-Jones, K.C., for the company. said that the Ministry of Fuel and Power, engaged in opencast coal mining at Blaina, Ammanford, entered into a contract with Wimpey dated May 27, 1949, to remove the soil, obtain the coal, convey it to the screening works and deal with the sludge, refuse and rejected coal. The company used its own C-licensed lorries, and one lorry, which had a B licence, was employed on another site.
The. justices found that the business at Blaina. was not the company's, and that C licences were not applicable.
A30 The company's case was that it was carrying on the business of opencast coal mining and was entitled to use its own C-licensed lorries. • Giving judgment, Lord Goddard, the Lord Chief Justice, said that whether the company was carrying on the business of opencast mining or not, it was certainly conducting the business of a contractor. The trade carried on by the company was undoubtedly the carriage of the coal to the screening plant, and the carriage of coal which had either been accepted or rejected, and in Lord Cioddard's opinion the appeal succeeded, Mr. Justice Hilbery and Mr. Justice Parker agreed.