One Hears—
22nd December 1950
Page 29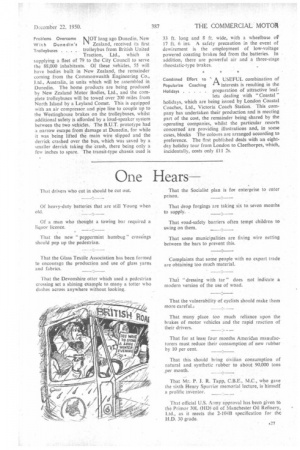 Page 29, 22nd December 1950 —
One Hears—
Close
That drivers who cut in should be cut out.
Of heavy-duty batteries that are still Young when old.
Of a man who thought a towing bar required a liquor licence.
That the new "peppermint humbug" crossings should pep up the pedestrian.
That the Glass Textile Association has been formed to encourage the production and use of glass yarns and fabrics.
That the Devonshire otter which used a pedestrian crossing set a shining example to many a totter who dashes across anywhere without looking. That the Socialist plan is for enterprise to enter prison.
That drop forgings are taking six to seven months to supply. .
That road-safety barriers often tempt children to swing on them.
That some municipalities are fixing wire netting between the bars to prevent this.
Complaints that some people with no export trade are obtaining too much material.
That "dressing with tar" does not indicate a modern version of the use of woad.
That the vulnerability of cyclists should make them more carefuli That many place too much reliance upon the brakes of motor vehicles and the rapid reaction of their drivers.
That for at least four months Arneridan manufacturers must reduce their consumption of new rubber by 10 per cent.
That this should bring civilian consumption of natural and synthetic rubber to about 90,000 tons per month.
That Mr. P. I. R. Tapp, C.B.E., MC., who gave the sixth Henry Spurrier memorial lecture, is himself a prolific inventor.
That official U.S. Army approval has been given to the Primor 30L (HD) oil of Manchester Oil Refinery, Ltd., as it meets the 2-10413 specification for thc H.D. 3Q grade.