Give a Sporting Incentive to Drivers
22nd December 1950
Page 28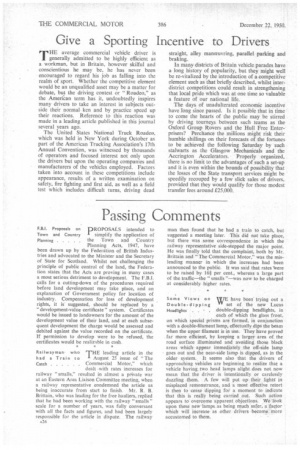 Page 28, 22nd December 1950 —
Give a Sporting Incentive to Drivers
Close
THE average commercial vehicle driver is generally admitted to be highly efficient as a workman, but in Britain, however skilful and conscientious he may be, he has never been encouraged to regard his job as falling into the realm of sport. Whether the competitive element would be an unqualified asset may be a matter for debate, but the driving contest or " Roadeo," as the American term has it, undoubtedly inspires many drivers to take an interest in subjects outside their normal ken and by practice speed up their reactions. Reference to this reaction was made in a leading article published in this journal several years ago.
The United States National Truck Roadeo, which was held in New York during October as part of the American Trucking Association's 17th Annual Convention, was witnessed by thousands of operators and focused interest not only upon the drivers but upon the operating companies and manufacturers of the vehicles employed. Factors taken into account in these competitions include appearance, results of a written examination on safety, fire fighting and first aid, as well as a field test which includes difficult turns, driving dead straight. alley manceuvring, parallel parking and braking.
In many districts of Britain vehicle parades have a long history of popularity, but they might well be re-vitalized by the introduction of a competitive element such as that briefly described, whilst interdistrict competitions could result in strengthening that local pride which was at one time so valuable a feature of our national life.
The days of unadulterated economic incentive have long since passed. Is it possible that in time to come the hearts of the public may be stirred by driving tourneys between such teams as the Oxford Group Rovers and the Hull Free Enterprisers? Perchance the millions might risk their humble shillings on their forecasts of the fortunes to be achieved the following Saturday by such stalwarts as the Glasgow Mechanicals and the Accrington Accelerators. Properly organized, there is no limit to the advantages of such a set-up and it is even within the bounds of possibility that the losses of the State transport services might be speedily recouped by a few slick sales of drivers. provided that they would qualify for those modest transfer fees around £25.000.