R.H.A. Members Call for Early' Relief from 25-mile Limit
22nd August 1952
Page 32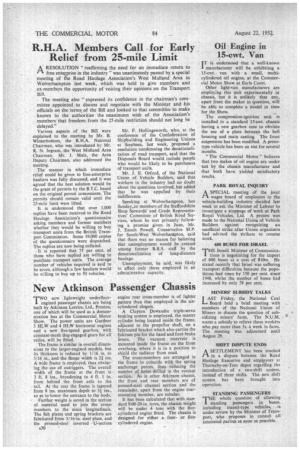 Page 32, 22nd August 1952 —
R.H.A. Members Call for Early' Relief from 25-mile Limit
Close
A RESOLUTION "reaffirming the need for an immediate return to
free enterprise in the industry" was unanimously passed by a special meeting of the Road Haulage Association's West Midland Area in Wolverhampton last week; which was held to give members and ex-members the opportunity of voicing their opinions on the Transport The meeting also "expressed its confidence in the chairman's committee appointed to discuss and negotiate with the Minister and his officials on the terms of the Bill and looked to that committee to make known to the authorities the unanimous wish of the Association's members that freedom from the 25-mile restriction should not long be delayed."
Various aspects of the Bill were explained to the meeting by Mr. B. Winterbottom, the R.H.A. National Chairman, who was introduced by Mr. R. N. Ingram, the West Midland Area Chairman. Mr. J. Male, the Area Deputy Chairman, also addressed the meeting.
The manner in which immediate relief could be given to free-enterprise hauliers was fully discussed, and it was agreed that the best solution would be the grant of permits by the B.T.C. based on the original permit concessions. The permits should remain valid until the 25-mile limit were lifted.
It is understood that over 1,000 replies have been received to the Road Haulage Association's questionnaire asking members and former members whether they would be willing to buy transport units from the British Transport Commission. Some 19,000 copies of the questionnaire were dispatched. The replies are now being collated. •
It is reported that 75 per cent. of those who have replied are willing to purchase transport units. The average number of vehicles required is said to be seven, although a few hauliers would be willing to buy up to 50 vehicles.
Mr. F. Hollingsworth, who, at the conference of the Confederation of Shipbuilding and Engineering Unions at Southsea, last week, proposed a resolution condemning the denationalization of road transport, said that thc Disposals Board would include people who would be likely to be purchasers of transport units.
Mr. J. E. Orford, of the National Union of Vehicle Builders, said that workers in the industry had no doubt about the questions involved, but added that he was • appalled by their indifference.
Speaking at Wolverhampton, last Sunday,ao members a the Staffordshire Shop Stewards' and Grade Representatives' Committee of British Road Services, whom he met privately following a promise given in June, Mr. J. Enoch Powell, Conservative. M.1). for South-West Wolverhampton, said that there was no reason for believing that unemployment would be created among former B.R.S. staff by the denationalization of long-distance haulage.
Unemployment, he said, was likely to affect only these employed in an administrative capacity.