Can Repair Prices be Reduced?
22nd August 1952
Page 30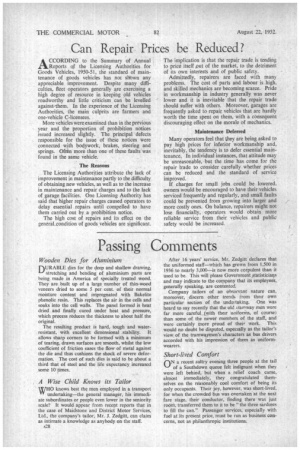 Page 30, 22nd August 1952 —
Can Repair Prices be Reduced?
Close
ACCORDING to the Summary of Annual Reports of the Licensing Authorities for Goods Vehicles, 1950-51, the standard of maintenance of goods vehicles has not shown any appreciable improvement. Despite many difficulties, fleet operators generally are exercising a high degree of resource in keeping old vehicles roadworthy and little criticism can be levelled against-them. In the experience of the Licensing Authorities, the main culprits are farmers and one-vehicle C-licensees.
More vehicles were examined than in the previous year and the proportion of prohibition notices issued increased slightly. The principal defects responsible for the issue of these notices were connected with bodywork, brakes, steering and springs. Often more than one of these faults was found in the same vehicle.
The Reasons The Licensing Authorities attribute the lack of improvement in maintenance partly to the difficulty of obtaining new vehicles, as well as to the increase in maintenance and repair charges and to the lack of garage facilities. One Licensing Authority has said that higher repair charges caused operators to delay essential repairs until compelled to have them carried out by a prohibition notice.
The high cost of repairs and its effect on the general condition of goods vehicles are significant. The implication is that the repair trade is tending to price itself put of the market, to the detriment of its own interests and of public safety.
Admittedly, repairers are faced with many problems. The cost of parts and labour is high, and skilled mechanics are becoming scarce. Pride in workmanship in industry generally was never lower and it is inevitable that the repair trade should suffer with others. Moreover, garages are frequently asked to repair vehicles that arc hardly worth the time spent on them, with a consequent discouraging effect on the morale of mechanics.
Maintenance Deferred Many operators feel that they are being asked to pay high prices for inferior workmanship and, inevitably, the tendency is to defer essential maintenance. In individual instances, that attitude may be unreasonable, but the time has come for the repair trade to consider carefully whether prices can be reduced and the standard of service improved.
if charges for small jobs could be lowered, owners would be encouraged to have their vehicles serviced frequently and regularly, and small faults could be prevented from growing into larger and more costly ones. On balance, repairers might not lose financially, operators would obtain more reliable service from their vehicles and public safety would be increased.