ONE HEARS
22nd August 1918
Page 3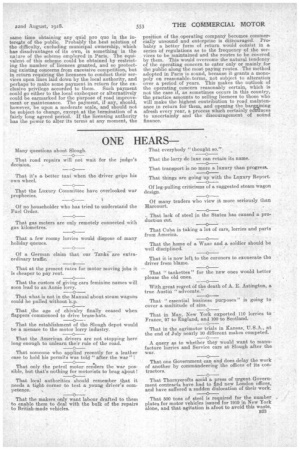 Page 3, 22nd August 1918 —
ONE HEARS
Close
Many questions about Slough.
That road repairs will not wait for the judge's decision.
That it's a better taxi when: the -driver grips his own wheel.
That the Luxury Committee have overlooked war prophecies.
Of no householder who has tried to understand the Fuel Order.
That gas meters ar gas kilometres. e only remotely connected with lorries would dispose of many That a few roomy holiday queues.
Of a German claim that our Tanks are extraordinary traffic.
That at the present rates for motor moving jobs it is cheaper to pay rent.
That the custom of giving cars feminine names will soon lead to an Annie lorry.
That what is not in the Manual about steam wagons could be pulled without.h.p.
That the age of chivalry finally ceased when flappers' commenced to drive brass-hats.
That the establishment of the Slough depot would be a menace to the motor lorry industry.
That the American drivers are not stopping here long enough to unlearn their rule of the road.
That someone who applied recently for a leather ease to hold his permits was told "after the war " !
That only the petrol motor ren.dets the war possible, but that's nothing for motorists to brag about !
That local authorities should remember that it needs a tight corner to test a young driver's corn That the makers only want labour drafted to them to enable them to deal with the bulk of the repairs to British-made vehicles. That everybody "thought so."
That the lorry de luxe can retain its name.
That transport is no more a luxury than progress. That things are going up with the Luxury Report.
Of many traders who view it more seriously than Harcourt.
. That lack of steel in the States has caused a production cut.
That Cuba is taking a lot of cars, lorries and parts from America.
That it is now left to the coroners to exonerate the driver from blame.
That " tankettes " for the new ones would better please the old ones.
With.great regret of the death of A. E. Astington, a true Austin "advocate."
That " essential business purposes" is going to cover a multitude of sins.
That in May, New York exported 110 lorries to France, 97 to England, and 100 to Scotland.
That in the agrimotor trials in Kansas, 'U.S.A., at the end of July nearly 30 different. makes competed.
A query as to whether they would want to manufacture lorries and Service cars at Slough after the war.
That one Government can and does delay the work of another by commandeering the offices of its contractors.
That Thornyerofts amid a press of urgent Government contracts have.had to find new London offices, and have suffered a sudden dislocation of their work.
That 500 tons of steel is required for the number plates for motor vehicles issued for 1919 in New York alone, and that agitation is afoot to avoid this waste. B23