TOURS APPLICATIONS IN SCOTLAND 1',
22nd April 1938
Page 64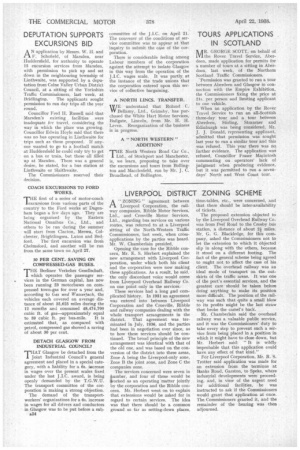 Page 64, 22nd April 1938 —
TOURS APPLICATIONS IN SCOTLAND 1',
Close
R. GEORGE SCOTT, on behalf of /VI the Rover Travel Service, Aberdeen, made application for permits for a number of tours at a sitting in Aberdeen, last week, of the Northern Scotland Traffic Commissioners.
Permission was granted to run a tour between Aberdeen and Glasgow in connection with the Empire Exhibition, the Commissioners fixing the price at 21s, per person and limiting applicant to one vehicle.
When an application by the Rover Travel Service to run an all-Scottish three-day tour and a tour between Aberdeen, Stirling, Stranraer and Edinburgh was being considered, Mr. J. J. Donald, representing applicant, admitted that permission was sought last year to run a similar tour and this was refused. This year there was no further evidence. The application was refused, Councillor Fraser Macintosh commenting on operators' lack of judgment when producing evidence, but it was permitted to run .a sevendays' North and West Coast tour.