DEPUTATION SUPPORTS EXCURSIONS BID
22nd April 1938
Page 64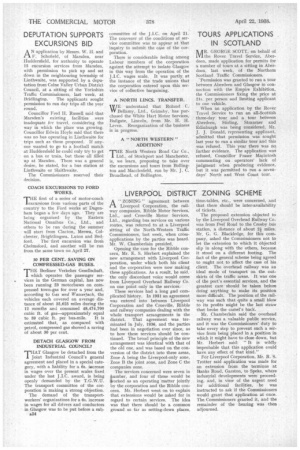 Page 64, 22nd April 1938 —
DEPUTATION SUPPORTS EXCURSIONS BID
Close
Keywords :
AN application by Messrs. W. H. and F. Schofield, of Marsden, near Huddersfield, for authority to operate 15 excursion services from Marsden, with permission to pick up and set down in the neighbouring township of Linthwaite, was supported by a deputation from CoInc Valley Urban District Council, at a sitting of the Yorkshire Traffic Commissioners, last week, at
Bridlington. The applicants sought permission to run day trips all the year round.
Councillor Fred H. Russell said that Marsden's existing facilities were inadequate for travel, considering the way in which the place was growing. Councillor Edwin Hoyle said that there was no bus operating in Lin thwaite for trips such as those proposed. If anyone wanted to go to a football match at Huddersfield he could only try to get on a bus or train, but these all filled up at Marsden. There was a general' desire, he stated, for a bus station at Linthwaite or Slaithwaite.
The Commissioners reserved their decision.
COACH EXCURSIONS TO FORD WORKS.
-rifiE first of a series of motor-coach lexcursions from various parts of the country to the Ford works at Dagenham began a few days ago. They are being organized by the Eastern National Omnibus Co., Ltd., and others to be run during the summer will start from Clacton, Mersea, Colchester, Brightlingsea. Luton and Bed
ford. The first excursion was from Chelmsford, and another will be run from the same town on April 27.
30 PER CENT. SAVING ON ' COMPRESSED-GAS BUSES.
THE Berliner Verkehrs Gesellschaft, which operates the passenger services in the German capital, has now been running 23 motorbuses on compressed town-gas for over a year and, according to Gas und Wasserfach. the vehicles each covered an average distance of about 35,625 miles during the 12 months and consumed 48,474,700 cubic ft. of gas—approximately equal
to 59 cubic ft. per bus-mile. It is estimated that, as compared with petrol, compressed gas showed a saving of about 30 per cent.
DETACH GLASGOW FROM INDUSTRIAL COUNCIL?
THAT Glasgow be detached from the 1 Joint Industrial Council's general agreement and placed in a special category, with a liability for a 6s. increase in wages over the present scales fixed under the last J.I.C. award, is being openly demanded by the T.G.W.U. The transport committee of the corporation is snaking a strong objection.
The demand of the transportworkers' organizations for a 6s. increase in wages for all drivers and conductors in Glasgow was to be put before a sub -5,34 committee of the J.I.C. on April 21. The convener of the conditions of service committee was to appear at that inquiry to submit the case of the corporation.
There is considerable feeling among Labour members of the corporation against the attempt to isolate Glasgow in this way from the operation of the J.I.C. wages scale. It was partly at the instance of the trade unions that the corporation entered upon this service of collective bargaining.