Road Transport Topics
22nd April 1938
Page 62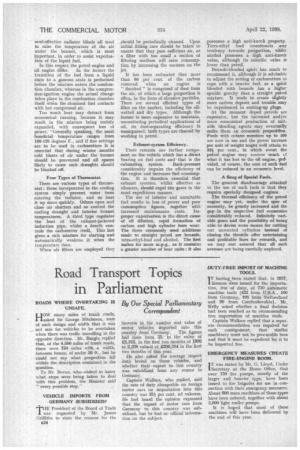 Page 62, 22nd April 1938 —
Road Transport Topics
Close
in Parliament
ROADS WHERE OVERTAKING IS UNSAFE.
UOW many miles of trunk roads, I !asked Sir George Mitcheson, were of such design and width that it was not safe for vehicles to be overtaken when there was traffic travelling in the opposite direction. Mr. Burgin replied that, of the 4,500 miles of 'trunk roads, there were 750 miles with a width, between fences, of under 30 ft., but he could not say what proportion fell within the description contained in the question.
To Mr. Bevan, who wished to know Avliat steps were being taken to deal with this problem, the Minister said
every possible step."
VEHICLE IMPORTS FROM GERMANY SUBSIDIZED?
-rim President of the Board of Trade I was requested by Mr. James Griffiths to state the reasons for the 3324 increase in the number and value of motor' vehicles imported into this country from Germany. The figures bad risen from 35, to the wane of £8,815. in the first two Months of 1936 to 2,339 valued at 9.200,384 in the first two months of this year.
He also asked the average import duty levied on those vehicles, and whether their export to this country was subsidized from any source in Germany. Captain Wallace, who replied, said the rate of -duty chargeable on foreign motor cars on importation into this country was 33* per cent. ad valorem. He had heard the opinion expressed that the export of motor cars _from Germany to this country was subsidized, but he had no official information on the subject. DUTY-FREE IMPORT OF MACHINE TOOLS.
iT having been stated that, in 1937, licences were issued for the importation, free of duty, of 710 automatic machine tools (4= from U.S.A., 160 from Germany, tOS from Switzerland and 20 from Czechoslova'kia), Mr, Kelly asked whether a final decision had been reached as to recommending free importation of machine tools.
Captain Wallace replied that a separate recommendation was required for each consignment, that similar machinery must not be procurable here and that -it must be expedient for it to be imported free.
EMERGENCY MEASURES CREATE FIRE-ENGINE BOOM.
IT was stated by Mr. G. Lloyd, Under Secretary at the Home Office, that over 150 fire pumps, mostly of the larger and heavier type, have been issued to fire brigades for use in -connection with their emergency measures. About 600 mare machines of these types have been ordered, together with about 3,000 light trailer pumps.
It is hoped that most of these machines will have been delivered by the end of this year.