Action Against Cattle Haulier Dismissed
22nd April 1938
Page 59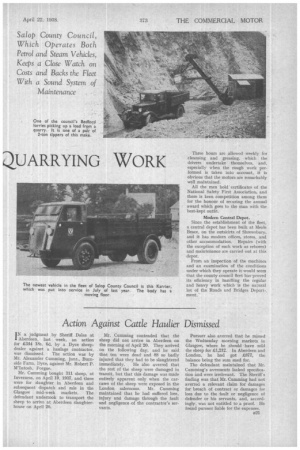 Page 59, 22nd April 1938 —
Action Against Cattle Haulier Dismissed
Close
I N a judgment by Sheriff Dales at Aberdeen, last week, an action for £344 18s. Gd. by a Dyce sheepdealer against a haulage contractor, was dismissed. The action was by Mr. Alexander Cumming, junr., Burnside Farm, Dyce, against Mr. Robert P. M'Intosh, Forgue.
Mr. Cumming bought 311 sheep, at Inverness, on April 19, 1937, and these were for slaughter in Aberdeen and subsequent dispatch and sale in the Glasgow mid-week markets. The defendant undertook to transport the sheep to arrive at Aberdeen slaughterhouse on April 20. Mr. Cumming contended that the sheep did not arrive in Aberdeen on the morning of April 20. They arrived on the following day, and he said that ten were dead and 88 so badly injured that they had to be slaughtered
immediately. He also averred that the rest of the sheep were damaged in transit, but that this damage was made entirely apparent only when the carcases of the sheep were exposed in the London salerooms. Mr. Cumming maintained that he had suffered loss, injury and damage through the fault and negligence of the contractor's servants.
Pursuer also averred that he missed the Wednesday morning markets in Glasgow, where he should have sold the sheep for £1,212. In Aberdeen and London, he had got £877, the balance being the sum sued for.
The defendant maintained that Mr. Cummings averments lacked specification and were irrelevant. The Sheriff's finding was that Mr. Cumming had not averred a relevant claim for damages for breach of contract or damages for loss due to the fault or negligence of defender or his servants, and, accordingly, was not entitled to a proof. He found pursuer liable for the expenses.