The Compressed Town-gas Position on the Continent
22nd April 1938
Page 57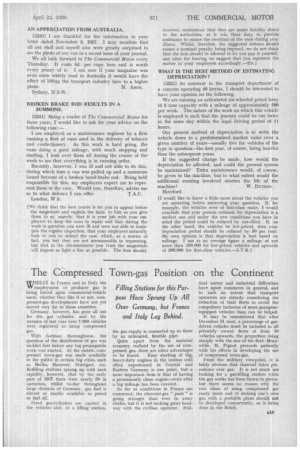 Page 57, 22nd April 1938 —
The Compressed Town-gas Position on the Continent
Close
WHILST in France and in Italy the YV employment of producer gas is being forced upon commercial-vehicle users, whether they like it or not, compressed-gas developments have not yet moved very far in those countries.
Germany, however, has gone all out for the gas cylinder, and by the autumn of last year over 7,000 vehicles were registered as using compressed gas.
With German thoroughness, the question of the distribution of gas was tackled first before any big propaganda work was started. At the outset, compressed town-gas was made available to the publie in certain big cities, such as Berlin, Hanover, Stuttgart, etc. Refilling stations sprang up with such rapidity, however, that by the early part of 1937 there were nearly 50 in operation, whilst to-day throughout large districts of Germany, gas fuel is almost as readily available as petrol . or fuel.oll.
Fixed gas-cylinders are carried in the vehicles and, at a filling station, the gas supply is connected up to them by an armoured, flexible pipe. Quite apart from the material economy realized by the use of compressed gas, there are other advantages
to be found. Easy starting of big, heavy-duty engines in the intense cold often experienced in Central and Eastern Germany is one point, but a more important item is that of having a permanently clean engine—even after a big mileage has been covered.
So far as conditions in France are concerned, the charcoal-gas " push " is going stronger than ever in army circles, but it is not making great headway with the civilian operator. Poli tical unrest and industrial difficulties have upset commerce in general, and to such an extent that transport operators are already considering the reduction of their fleets to avoid the compulsory inclusion of more gazogeneequipped vehicles than can be helped.
It may be remembered that after December 31 next, a percentage of gasdriven vehicles must be included in all privately owned fleets of from 10 vehicles upwards, the proportion rising sharply with the size of the fleet. Meanwhile, M. Pignot proceeds patiently with his efforts in developing the use of compressed town-gas,
From the military viewpoint, it is fairly obvious that charcoal takes precedence over gas. It is not much use looking for a gas-filling station when the gas works has been blown to pieces, but there seems no reason why the two ideas of using compressed gas ready made and of making one's own gas with a portable plant should not be developed concurrently, as is being done in the Reich.