A Woman Who Really Knows Haulage
22nd April 1938
Page 54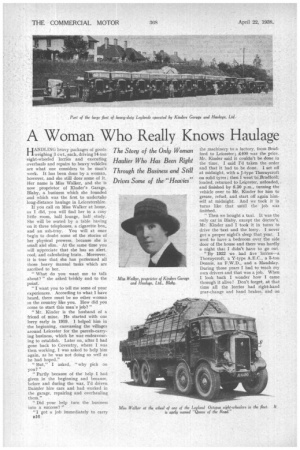 Page 55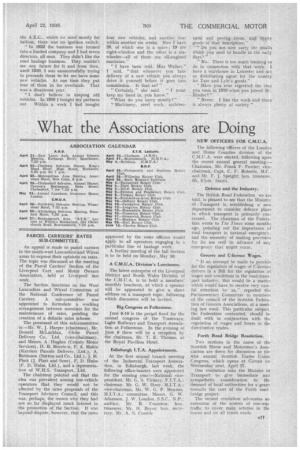 Page 54, 22nd April 1938 —
A Woman Who Really Knows Haulage
Close
Keywords :
The Story of the Only Woman Haulier Who Has Been Right Through the Business and Still Drives Some of the "Heavies"
HANDLING heavy packages of goods weighing 3 cwt. each, driving 14-ton eight-wheeled lorries and executing overhauls and repairs to heavy vehicles are what one considers to be man's work. It has been done by a woman, however, and she still does some of it. Her name is Miss Walker, and she is now proprietor of IGnder's Garage, Blaby, a business which she founded and which was the first to undertake long-distance haulage in Leicestershire.
If you call on Miss Walker at home, as I did, you will find her in a cosy little room, half lounge, half study. She will be seated by a table having on it three telephones, a cigarette box, and an ash-tray. You will at once begin to doubt some of the stories of her physical prowess, because she is small and slim. At the same time you will appreciate that she has an alert, cool, and calculating brain. Moreover, it is true that she has performed all those heavy manual tasks which are ascribed to her.
"What do you want me to talk about?" she asked briskly and to the point.
"I want you to tell me some of your experiences. According to what I have heard, there must be no other woman in the country like you. How did you come to start this man's job?"
"Mr. Kinder is the husband of a friend of mine. He started with one lorry early in 1919. I helped him in the beginning, canvassing the villages around Leicester for the parcels-carrying business, which he was endeavouring to establish. Later on, after I had gone back to Coventry, where I was then working, I was asked to help him again, as he was not doing so well as he had hoped."
"But," I asked, "why pick on you?"
"Partly because of the help I had given in the beginning and because, before and during the war, l'd driven Daimler hire cars and had worked in the garage, repairing and overhauling them."
"Did your help turn the business into a success? "
"I got a job immediately to carry B16
the machinery to a factory, from Bradford to Leicester ; £400 was the price. Mr. Kinder said it couldn't be done in the time. I said I'd taken the order and that it had to be done. I set off at midnight, with a ktype Thornycroft on solid tyres ; then I went to Bradford. loaded, returned to Leicester, unloaded, and finished by 8.30 p.m., turning the vehicle over to Mr. Kinder for him to grease, refuel, and start off again himself at midnight. And we took it in turns like that until the job was finithed.
" Then we bought a taxi. It was the only car in Blaby, except the doctor's. Mr. Kinder and I took it in turns to drive the 'taxi and the lorry. I never got a proper night's sleep that year. I used to have a bedroom over the side door of the house and there was hardly a night that I didn't have to go out.
"By 1922 we had five lornes—a Thornycroft, a Y-type A.E.C., a 5-ton Dennis, an F.W.D., and a Maudslay. During those years I had to teach my own drivers and that was a job. When I look back I wonder how I came through it alive! Don't forget, at that time all the lorries had right-hand gear-change and hand brakes, and on
the A.E.C., which we used mostly for tuition, there was no ignition switch.
" In 1922 the business was formed into a limited company and I had seven directors, all men. They didn't like the road haulage business. They couldn't see any future for it and from then, until 1030. I was unsuccessfully trying to persuade them to let me have some new vehicles. At one time they put four of them in for overhauls. That was a disastrous year.
"I don't believe in keeping old vehicles. In 1930 I boUght my partners out. Within a week I had bought four new vehicles, and another four within another six weeks. Now I have 20, of which one is a spare ; 19 are eight-wheelers and the other is a sixwheeler—all of them are oil,engined• machines."
" I have been told, Miss Welker," I said, "that whenever you take delivery of a new vehicle you always drive it yourself before it goes into commission. Is that so?"
"Certainly," she said. " I must keep my band in, you know."
"What do you carry mostly?"
" Machinery, steel work, architec tural and paving :stone, and -heavy goods of 'that' destription,"
Do you not now carry the smalls Which you used to handle in thi. early days?"
. No. There is too much booking to do in connection with that work. I have a warehouse in Leicester and act as distributing agent for the county for Tate and Lyle's goods." .
" Have you ever regretted the step you took in 1919 when you joined Mr. Kinder?" • • Never. I like the work and there is always plenty of variety."