How the Agriculturist Stands to Gain by Using a Haulier's Facilities
22nd April 1938
Page 52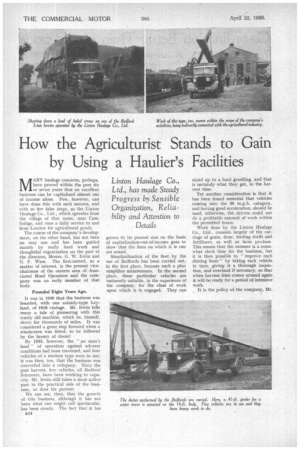 Page 53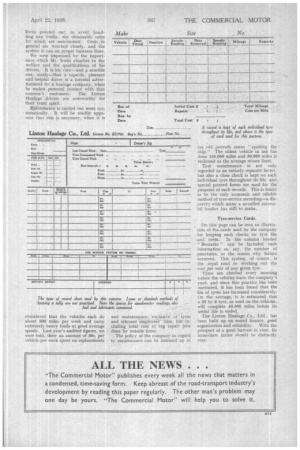 Page 52, 22nd April 1938 —
How the Agriculturist Stands to Gain by Using a Haulier's Facilities
Close
MANY haulage concerns, perhaps, have proved within the past six or seven years that an excellent business can be capitalized almost out of income alone. Few, however, can have done this with such success, and with so few false steps, as the Linton Haulage Co., Ltd., which operates from the village of that name, near Cambridge, and runs a daily service to and from London for agricultural goods.
The course of the company's development, on the other hand, has not been an easy one and has been guided mainly by really hard work and thoughtful organization on the part of the directors, Messrs. G. W. Irwin and G. F. Wass. The first-named, as a matter of interest, is the present vicechairman of the eastern area of Associated Road Operators and the company was an early member of that body.
Founded Eight Years Ago.
It was in 1930 that the business was founded, with one subsidy-type Leyland, of 1916 vintage, Mr. Irwin tells many a tale of pioneering with this trusty old machine, which he, himself, drove for thousands of miles. It was considered a great step forward when a windscreen was fitted, to be followed by the luxury of doors!
By 1935, however, the "no man's land " of operation against adverse conditions had been traversed, and four vehicles of a modern type were in use; it was then, too, that the business was converted into a company. Since the past harvest, five vehicles, all Bedford 3-tonners, have been working to capacity. Mr. Irwin still takes a most active part in the practical side of the business, as does his partner.
We can see, then, that the growth of this business, although it has not been what one might call spectacular, has been steady. The fact that it has 1314 grown to its present size on the basis of capitalization-out-of-income goes to show that the lines on which it is run are sound.
Standardization of the fleet by the use of Bedfords has been carried out, in the first place, because such a plan simplifies maintenance. In the second place, these particular vehicles are eminently suitable, in the experience of the company, for the class of work upon which it is engaged. They can stand up to a hard gruelling, and that is certainly what they get, in the harvest time.
Yet another consideration is that it has been found essential that vehicles coming into the SO m.p.h. category, and having good acceleration, should be used; otherwise, the drivers could not do a profitable amount of work within the permitted hours.
Work done by the Linton Haulage Co., Ltd., consists largely of the carriage of grain, flour, feeding stuffs and fertilizers, as well as farm produce. This means that the summer is a, somewhat slack time for the business, but it is then possible to "improve each shining hour" by taking each vehicle in turn, giving it a thorough inspection, and overhaul if necessary, so that when harvest time comes around again it will be ready for a period of intensive work.
It is the policy of the company, Mr. Irwin pointed out, to avoid handling any traffic, the obtainable rates for which are uneconomic. Costs in general are watched closely, and the system is run -on proper business lines.
We were impressed by the importance which Mr. Irwin attaches to the welfare and the qualifications of his drivers. It is his N•iew—and a sensible one, surely—that a capable, pleasant and helpful driver is a forceful advertisement for a haulage company, when he makes personal contact with that concern's customers. The Linton Haulage drivers are noteworthy for their team spirit.
Maintenance is carried out most systematically. It will be readily apparent that this is necessary, when it is rile old proverb aneni "spoiling the ship." The oldest vehicle in use has done 150,000 miles and 50,000 miles is reckoned as the average rebore limit.
Tyre maintenance is not only regarded as an entirely separate factor, but also a close check is kept on each individual tyre throughout its life, and, special printed forms are used for the purposes of such records. This is found to be the only economic and reliable method of tyre-service recording—a discovery which many a so-called success. Ent haulier has still to make.
Tyre-service Cards.
On this page can be seen an illustration of -the cards used by the company for keeping such checks on tyre life and costs. In the column headed
Remarks " can be included such information as, say, the number of punctures, or the reason why failure occurred. This system, of course, is the royal road to working out the cost per mile of any given tyre. Tyres are checked every morning before the vehicles leave the company's yard, and since this practice has been instituted, it has been found that the life of tyres has increased considerably. On the average, it is estimated that a 32 by 6 tyre, as used on the vehicles,. will complete 45,000 miles before its useful life is ended.
The -Linton Haulage _Co.. Ltd., has been built up on sound finance, good organization and reliability. With the prospect of a good harvest in view, its immediate future should be distinctly rosy.