Many Hauliers Still Need ates Guidance
22nd April 1938
Page 44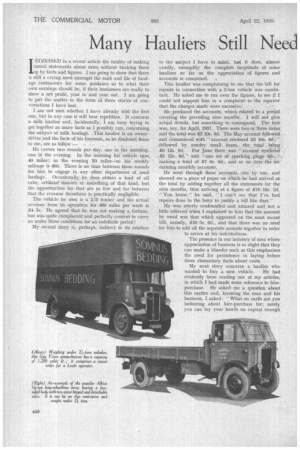 Page 45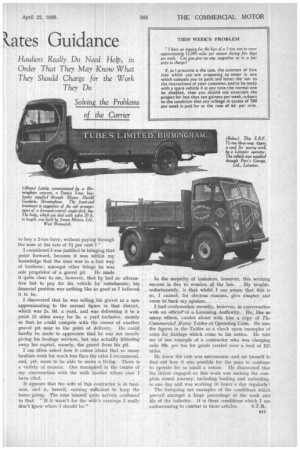 Page 44, 22nd April 1938 —
Many Hauliers Still Need ates Guidance
Close
ISTRESSED in a recent article the futility of making casual statements about rates without backing them up by facts and figures. 1 am going to show that there is still a crying need amongst the rank and file of haulage contractors for some guidance as to what their own earnings should be, if their businesses are really to show a net profit, year in and year out. I am going to put the matter in the form of three stories of conversations I have had.
I am not sure whether I have already told the first one, but in any case it will bear repetition. It concerns a milk haulier and, incidentally, I am busy trying to get together as many facts as I possibly can, concerning the subject of milk haulage. , This haulier is an ownerdriver and the facts of his business, as he disclosed them to me, are as follow :— • , ,.
He covers two rounds per day, one in the morning, one in the evening. In the morning his vehicle runs, 40 miles ; in the evening 30 miles—so his" .weekly mileage is 490. There is no time between these rounds for him to engage in any other department of road haulage. Occasionally, he does obtain a load of oil cake, artificial manure or something. of that kind, but the opportunities for that are so few and far between that the revenue thereform is practically negligible.
The vehicle he uses is a 2/3 tonner and his actual revenue from its operation for 490 miles per week is £4 5s. He agreed that he was not making a fortune, but was quite complacent and perfectly content to carry on under those conditions for an indefinite period : My second story is, perhaps, indirect in its relation to the subject 1 have in mind, but it does, almost cruelly, exemplify the complete ineptitude of some hauliers so far as the appreciation of figures and accounts is concerned.
This haulier was complaining to me that his bill for repairs in connection with a 2-ton vehicle was exorbitant. He asked me to run over the figures, to see if I could not support him in a complaint to the repairer that the charges made were excessive.
He produced the accounts, which related to a period covering the preceding nine months. I will not give actual details, but something to correspond. The .first was, say, for April, 1937. There were two or three items and the total was £5 10s. 6d. The May account followed and Commenced with "account rendered £5 10s. 6d.," followed by sundry small items, the total being £6 12s. 8d. For June there was ." account rendered £6 12s.. 8d." and "one set of sparking plugs 16s.," -making a total of £7 8s. 8d., and so on over the remaining monthly accounts.
He went through these accounts, one by one, and showed me a piece of paper on which he had arrived at the total by adding together all the statements for the nine months, thus arriving at a figure of £70 16s. 2d. "You know," he said, "1 can't see that I've had repairs done to the lorry to justify a bill like that."
He was utterly confounded and amazed and not a little relieved when I explained to him that the amount he owed was that which appeared on the most recent bill, namely, £10 5s. 6d., and that there was no need for him to add all the separate acounts together in order to arrive at his indebtedness.
The presence in our industry of men whose appreciation of business is so slight that they can make a blunder such as this emphasizes the need for persistence in laying before them elementary facts about costs.
My next story concerns a haulier who wanted to buy a new vehicle. He had evidently been reading one of my articles, in which I had made some reference to hirepurchase. He asked me a question about this matter and, knowing the man and his business, I asked : "What on earth are you bothering about hire-purchase for; surely you can lay your hands on capital enough to buy a '2-ton lorry, without paying through the nose at the rate of 7 per cent.?"
I considered I was justified in bringing that point forward, because it was within my knowledge that the man was in a fair way of business; amongst other things he was sole proprietor of a gravel pit. He made it quite clear to me, however, that he had no alternative but to pay for his vehicle by instalments; his financial position was nothing like so good as I believed it to be.
I discovered that he was selling his gravel at a rate approximating to the normal figure in that district, which was 2s. 13d. a. yard, and was delivering it to a point 15 miles away for 3s. a yard inclusive, merely so that he could compete with the owner of another gravel pit near to the point of delivery. He could hardly be made to appreciate that he was not merely giving his haulage services, but was actually frittering away his capital, namely, the gravel from his pit.
I am. often asked how it comes about that so many hauliers work for much less than the rates I recommend, and, yet, seem to be able to make a living. There is a variety of reasons. One transpired in the course of my conversation with the milk haulier whose case I have cited.
It appears that the wife of this contractor is in business, and is, herself, earning sufficient to keep the home ,going. The man himself quite naively confessed to that. "f it wasn't for the wife's earnings I really don't low where T should be."
In the majority of instances, however, this seeming success is due to evasion of the law. My trouble, unfortunately, is that whilst I am aware that this is so, I cannot, for obvious reasons, give chapter and verse to back my opinion.
I had confirmation recently, however, in conversation with an official -of a Licensing Authority. He, like so many others, carries about with him a copy of The Commercial Motor Tables of Operating Costs. He uses the figures in the Tables as a check upon examples of rates for haulage which come to his notice. He told me of one example of a contractor who was charging only 16s. per ton for goods carried over a lead of 125 Miles.
He knew the rate was•uneconomic and set himself to find mit how it was possible for the man to continue to operate for so small a return. He discovered that the .`driver engaged on this work was making the complete round journey, including loading and unloading, in one day and was working 16 hours a day regularly!
• The foregoing are examples of the conditions which prevail amongst a large percentage of the rank and file of the industry. It is these conditions which I am endeavouring to combat in these articles. S.T.R.