NEW WELLWORTHY CELL-FACED PISTON RING
22nd April 1938
Page 43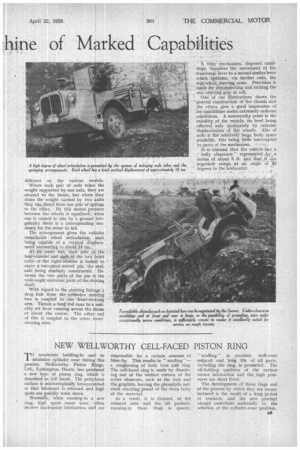 Page 43, 22nd April 1938 —
NEW WELLWORTHY CELL-FACED PISTON RING
Close
accelerate bedding-in and to TI minimizecylinder wear during this process, Wellworthy Piston Rings, Ltd., Lymington, Hants, has produced a new type of piston ring, which is described as cell faced. The peripheral surface is microscopically honeycombed so that lubricant is retained and high spots arc quickly worn down.
Normally, when running-in a new ring, high spots cause wear, Often receive inadequate lubrication and are responsible for a certain amount of blow-by. This results in " scuffing "— a roughening of both bore and ring. The cell-faced ring is made by dissolving out of the surface certain of the softer elements, such as the iron and the graphite, leaving the phosphide network standing proud of the main body of the material.
As a result, it is claimed, of the reduced area and the oil pockets, running-in these rings is speedy. scuffing" is avoided, wall-wear reduced and long life of all parts. including the ring, is promoted. The oil-holding qualities of the surface ensure lubrication and the _high pressures are short lived.
The development of these rings and of the process by which they are manufactured is the result of a long period of research, and the new product should contribute materially to the solution of the cylinder-wear problem.