PERSONAL PARS.
22nd April 1938
Page 37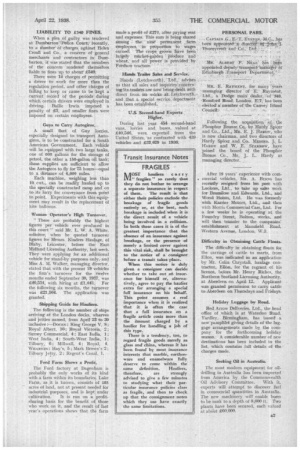 Page 37, 22nd April 1938 —
PERSONAL PARS.
Close
.CAPTAIN C, E. T. EYSTON,4,1. C., has . been ttplexiiiitert-a chrectOi Thornyeroft tnd' , Ltd.
ALBERT F. NEAL,' b4.
appointed deputy trtinspori of Ed inbargh TranSport `Depart:Me t.
E.. RiYMENT, for many years managing' director di E.' Rayment, 'Ltd., 'a Dodge main.' dealer,'of -340, -Kinitiord Road, London, E":7', has been elected' a member of the -Ca.wvey Island Following the acquisition_ of the Phosphor Bronze Co. by Hardy Spicer and Ma, E. J. T4ARDY,. who is now chairman, and two directors of Hardy Spicer and Co., Mr.ssas. J, L. HARDY and W. E SPARROW, have joined the board of the Phosphor Bronze Co., Mr. J. L. Hardy as managing director.
After 19 years' experience with corn. . inercial vehicles, MR. A. libsINs has recently resigned from his post with Lookers, Ltd., to take up salles work for Brentilow and Edwards, Ltd" and Wood Hoists. Ltd. He was formerly with Karrier Motors, Ltd." and then with Morris Commercial Cars,, Ltd_ For a few weeks he is operating at the Foundry Street,. Bolton., works, and will then Waster to the companies' establishment at Mansfield Road, Western Avenue, London, W.8.
Difficulty in Obtaining Cattle Floats.
The: difficulty in obtaining Herat's: for the carriage of cattle to marts, from Ellon, was indicateel in an application by Mr. Colin Chrystall, haulage contractor, Eilon" for the regrant of his licence, before. Mr, Henry Rie.liC8, the Northern Scotland Licensing, Authority, at Aberdeen on April 12. Applicant was granted permission to carry cattle to-Aberdeen on Thursdays and Fridays.
Holiday Luggage by Road..
Red. Arrow Deliveries, Ltd., the head office of which is at Waterloo 'Road, Yardley, Birmingham, has issued a new pamphlet giving details of' the luggage arrangements made by the company for the forthcoming holiday season.' A considerable number of new destinations has heen included in the list, which contains full details of the charges made.
Seeking 05 in Australia.
The most modern equipment, for oil. drilling in Australia has been imported from America by the Commonwealth
Oil Advisory CoMmittee. With it, experts will attempt to discover fuel in commercial quantities. in Australia. The new machinery will enable bores to he 'sunls. to a depth of 9,000 ft. Two plants have been' seenred, each valued at aliOnt £60,000.