One Hears
22nd April 1938
Page 35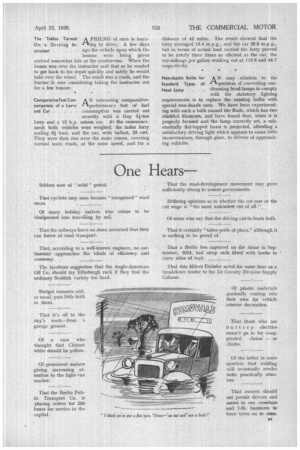 Page 35, 22nd April 1938 —
One Hears
Close
Seldom now of " solid" petrol.
That cyclists may soon become " recognized " road users.
Of many holiday makers who refuse to be bludgeoned into travelling by rail.
That the railways leave no stone unturned that they can throw at road transport_ That, according to a well-known engineer, no carburetter approaches the ideals of efficiency and economy.
The facetious suggestion that the Anglo-American Oil Co. should try Edinburgh rock if they find the ordinary Scottish variety too hard.
Budget rumours and, as usual, puts little faith in them.
That it's oil in the day's work—from a garage greaser.
Of a man who thought that Chinese white should be yellow.
Of prominent makers giving increasing attention to the light-van market.
That the Berlin Public Transport Co. is placing orders for 230 buses for service in the capital. That the road-development movement may grow sufficiently strong to unseat governments.
Differing opinions as to whether the cut rate or the cut wage is "the most unkindest cut of all."
Of some who say that the driving cut-in beats both.
That it certainly "takes pride of place," although it is nothing to be proud of.
That a Berlin bus captured on the Aisne in September, 1914, had strap rails fitted with hooks to
carry sides of beef. 0 That this Milnes Daimler acted for some time as a breakdown tender to the 1st Cavalry Division Supply Column.
Of plastic materials gradually coming into their own for vehicle interior decoration.
That those who use battery electrics musn't go in for exaggerated claims — or climbs.
Of the belief in some quarters that welding will eventually render bolts practically obsolete.
That owners should not permit drivers and mates to use crowbars and 7-lb. hammers to force tyres on to rims.