Plaxton launches Verde
21th March 1991
Page 14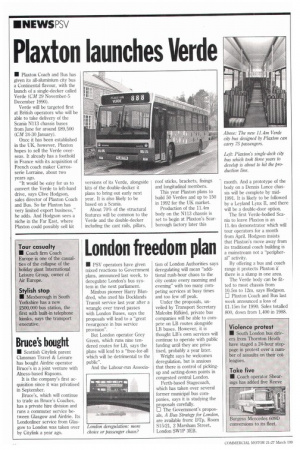 Page 14, 21th March 1991 —
Plaxton launches Verde
Close
• Plaxton Coach and Bus has given its all-aluminium city bus a Continental flavour, with the launch of a single-decker called Verde (CM 29 November-5 December 1990).
Verde will be targeted first at British operators who will be able to take delivery of the Scania N113 chassis buses from June for around 289,500 (CM 24-30 January).
Once it has been established in the UK, however, Plaxton hopes to sell the Verde overseas. It already has a foothold in France with its acquisition of French coach maker Carrosserie Lorraine, about two years ago.
"It would be easy for us to convert the Verde to left-hand drive, says Clive Hodgson, sales director of Plaxton Coach and Bus. So far Plaxton has very limited export business," he adds. And Hodgson sees a niche in the Far East, where Plaxton could possibly sell kit versions of its Verde, alongside kits of the double-decker it plans to bring out early next year. It is also likely to be based on a Scania.
About 70% of the structural features will be common to the Verde and the double-decker including the cant rails, pillars, roof sticks, brackets, fixings and longitudinal members.
This year Plaxton plans to build 50 Verdes and up to 150 in 1992 for the UK market.
Production of the 11.4m body on the N113 chassis is set to begin at Plaxton's Scarborough factory later this month. And a prototype of the body on a Dennis Lance chassis will be complete by mid1991. It is likely to he followed by a Leyland Lynx II, and there will be a double-door option.
The first Verde-bodied Scania to leave Plaxton is an 11.4m demonstrator which will tour operators for a month from April. Hodgson insists that Plaxton's move away from its traditional coach building is a mainstream not a "peripheral" activity.
By offering a bus and coach range it protects Plaxton if there is a slump in one area.
The Verde body can be fitted to most chassis from 10.5m to 12m, says Hodgson.
Plaxton Coach and Bus last week announced a loss of £1.15m for 1990. Sales totalled 800, down from 1,400 in 1988.