PAY DIFFICULTIES LOOM
21st October 1993
Page 8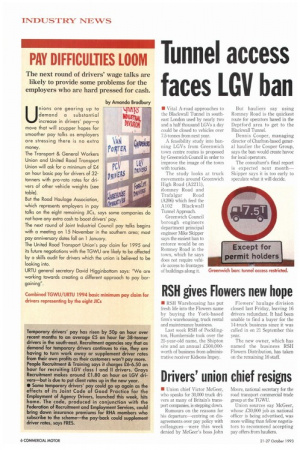 Page 8, 21st October 1993 —
PAY DIFFICULTIES LOOM
Close
Unions are gearing up to demand a substantial increase in drivers' pay—a move that will scupper hopes for smoother pay talks as employers are stressing there is no extra money.
The Transport & General Workers Union and United Road Transport Union will ask for a minimum of Zil an hour basic pay for drivers of 32tanners with pro-rata rates for drivers of other vehicle weights (see table).
But the Road Haulage Association, which represents employers in pay talks on the eight remaining JICs, says some companies do not have any extra cash to boost drivers' pay.
The next round of Joint Industrial Council pay talks begins with a meeting on 15 November in the southern area; most pay anniversary dates fall on 1 January.
The United Road Transport Union's pay claim for 1995 and its future negotiations with the TGWU are likely to be affected by a skills audit for drivers which the union is believed to be looking into.
URTU general secretary David Higginbottom says: "We are working towards creating a different approach to pay bargaining".