DoE backs hauliers in Green Belt row
21st October 1993
Page 6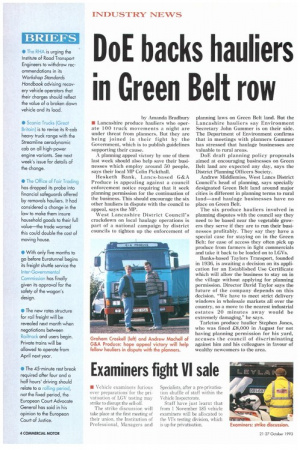 Page 6, 21st October 1993 —
DoE backs hauliers in Green Belt row
Close
by Amanda Bradbury II Lancashire produce hauliers who operate 100 truck movements a night are under threat from planners. But they are being joined in their fight by the Government, which is to publish guidelines supporting their cause.
A planning appeal victory by one of them last week should also help save their businesses which employ around 50 people, says their local MP Colin Pickthall.
Hesketh Bank, Lanes-based G&A Produce is appealing against a council enforcement notice requiring that it seek planning permission for the continuation of the business. This should encourage the six other hauliers in dispute with the council to appeal, says the NIP.
West Lancashire District Council's crackdown on local haulage operations is part of a national campaign by district councils to tighten up the enforcement of planning laws on Green Belt land. But the Lancashire hauliers say Environment Secretary John Gummer is on their side. The Department of Environment confirms that in meetings with planners Gummer has stressed that haulage businesses are valuable to rural areas.
DoE draft planning policy proposals aimed at encouraging businesses on Green Belt land are expected any day, says the District Planning Officers Society.
Andrew Middlerniss, West Lancs District Council's head of planning, says specially designated Green Belt land around major cities is different in planning terms to rural land—and haulage businesses have no place on Green Belt.
The six produce hauliers involved in planning disputes with the council say they need to be based near the vegetable growers they serve if they are to run their businesses profitably. They say they have a special case for staying on in the Green Belt: for ease of access they often pick up produce from farmers in light commercials and take it back to be loaded on to Banks-based Taylors Transport, founded in 1936, is awaiting a decision on its application for an Established Use Certificate which will allow the business to stay on in the village without applying for planning permission. Director David Taylor says the future of the company depends on this decision. "We have to meet strict delivery windows in wholesale markets all over the country, so a move to the nearest industrial estates 20 minutes away would be extremely damaging," he says.
Tarleton produce haulier Stephen Jones, who was fined £8,000 in August for not having planning permission for his yard, accuses the council of discriminating against him and his colleagues in favour of wealthy newcomers to the area.