STOP OFF
21st October 1993
Page 57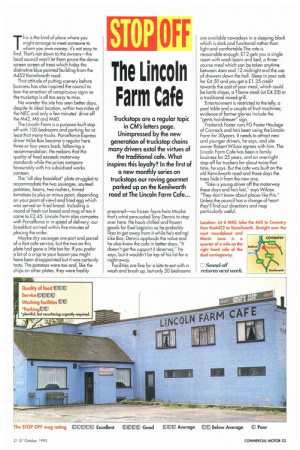 Page 57, 21st October 1993 —
STOP OFF
Close
Keywords :
Breakfast Foods
,
Meals
,
British Cuisine
,
American Cuisine
,
Fast Food
,
French Fries
,
Breakfast
,
Sausage
,
Fried Bread
,
Fried Egg
,
Hospitality / Recreation
The Lincoln Farm Cafe
This is the kind of place where you might arrange to meet someone to whom you owe money: it's not easy to find. That's not down to the owners—the local council won't let them prune the dense screen screen of trees which hides the distinctive blue painted building from the A452 Kennilworth road.
That attitude of putting scenery before business has also inspired the council to ban the errection of conspicuous signs so the truckstop is all too easy to miss. No wonder the site has seen better days, despite its ideal location, within two miles of the NEC and only a few minutes' drive off the M42, M6 and M40.
The Lincoln Farm is a purpose-built stop off with 100 bedrooms and parking for at least that many trucks. Parcelforce Express driver Mike Box became a regular here three or four years back, following a recommendation. He reckons that the quality of food exceeds motorway standards while the prices compare favourably with his subsidised works canteen.
The "all-day breakfast" plate struggled to accommodate the two sausages, sauteed potatoes, beans, two rashers, tinned tomatoes (a plus or minus point, depending on your point of view) and fried egg which was served on fried bread. Including a round of fresh-cut bread and mug of tea it came to 22.45. Lincoln Farm also competes with Parcelforce in in speed of delivery: our breakfast arrived within five minutes of placing the order.
Maybe dry sausages are part and parcel of a fast cafe service, but the Iwo on this plate had gone a little too far. If you prefer a bit of a crisp to your bacon you might have been disappointed but it was certainly tasty. The potatoes were too and, like the chips on other plates, they were freshly [prepared—no Frozen layre here.Maybe that's what persuaded Tony Dennis to stop over here. He hauls chilled and frozen goods for Exel Logistics so he probably likes to get away from it while he's eating! Like Box, Dennis applauds the value and he also knew the cafe in better days: "It doesn't get the support it deserves," he says, but it wouldn't be top of his list for a night away.
Facilities are fine for a bite to eat with a wash and brush up, but only 20 bedrooms are available nowadays in a sleeping block which is dark and functional rather than light and comfortable.The rate is reasonable enough: 212 gets you a single room with wash basin and bed, a threecourse meal which can be taken anytime between 4am and 12 midnight and the use of showers down the hall. Sleep in your cab for £4.50 and you get a £1.35 credit towards the cost of your meal, which could be lamb chops, a T-bone steak fat £4.55) or a traditional mixed grill.
Entertainment is restricted to the telly, a pool table and a couple of fruit machines; evidence of former glories include the "gents hairdresser" sign. Frederick Foster runs FG Foster Haulage of Cannock and he's been using the Lincoln Farm for 30years. It needs to attract new and younger drivers, he says, and site owner Robert Wilcox agrees with him. The Lincoln Farm Cafe has been a family business for 25 years, and an overnight stop-off for truckers for about twice that time, he says. But the cafe was built on the old Kennilworth road and these days the trees hide it from the new one.
"Take a young driver off the motorway these days and he's lost," says Wilcox. "They don't know about places like this." Unless the council has a change of heart they'll find our directions and map particularly useful.