Supervision in question
21st October 1993
Page 18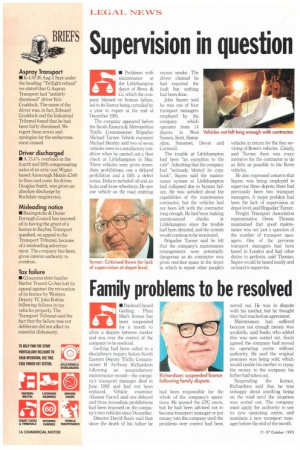 Page 18, 21st October 1993 —
Supervision in question
Close
• Problems with maintenance at the Littlehampton depot of Rowe & Co, which the company blamed on human failure, led to its licence being curtailed by a year to expire at the end of December 1994.
The company appeared before the South Eastern & Metropolitan Traffic Commissioner Brigadier Michael Turner. Vehicle examiner Michael Bentley said two of seven vehicles were in a satisfactory condition when he carried out a fleet check at Littlehampton in May. Three vehicles were given immediate prohibitions, one a delayed prohibition and a fifth a defect notice. Defects included oil and air leaks and loose wheelnuts. He saw one vehicle on the road emitting excess smoke. The driver claimed he had reported the fault but nothing had been done.
John Sayers said he was one of four transport managers employed by the company which operates from 14 depots in West Sussex, Kent, Hampshire, Somerset, Devon and Cornwall.
The trouble at Littlehampton had been "an exception to the rule". Admitting that the company had "seriously blotted its copy book", Sayers said the maintenance system at Littlehampton had collapsed due to human failure. He was satisfied about the capabilities of the maintenance contractor, but the vehicles had not been left with the contractor long enough. He had been making unannounced checks at Littlehampton since the trouble had been detected, and the system would continue to be monitored.
Brigadier Turner said he felt that the company's maintenance arrangements were potentially dangerous as its contractor was given rent-free space in the depot in which to repair other people's vehicles in return for the free servicing of Rowe's vehicles. Clearly, said Turner, there was every incentive for the contractor to do as little as possible to the Rowe vehicles.
He also expressed concern that Sayers was being employed to supervise three depots; there had previously been two transport managers. A major problem had been the lack of supervision at depot level, said Brigadier Turner.
Freight Transport Association representative Owen Thomas maintained that good maintenance was not just a question of the number of transport man. agers. One of the previous transport managers had been based in London and had other duties to perform, said Thomas. Sayers would be based locally and on hand to supervise.