New little big MAN
21st October 1993
Page 12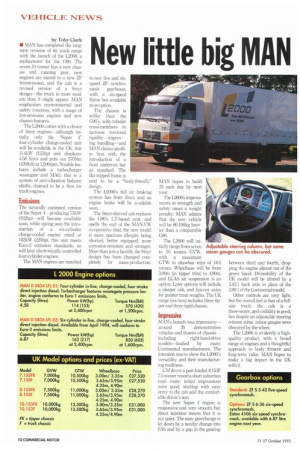 Page 12, 21st October 1993 —
New little big MAN
Close
by Toby Clark • MAN has completed the longterm revision of its truck range with the launch of the L2000, a replacement for the G90. The seven-10 tomer has a new chassis and running gear, new engines are mated to a new ZF transmission, and the cab is a revised version of a Steyr design—the truck is more modem than it might appear. MAN emphasises environmental and safety concerns, with a range of low-emission engines and new chassis features.
The L2000 comes with a choice of three engines—although initially only the "Super 4" four-cylinder charge-cooled unit will be available in the UK: this 114kW (155hp) unit displaces 4.58 litres and puts out 570Nm (420lbft) at 1,500rpm. Notable features include a turbocharger wastegate and MAG: this is a system of anti-vibration balance shafts, claimed to be a first for truck engines.
The naturally aspirated version of the Super 4 —producing 75kW (102hp)—will become available soon, while spring sees the introduction of a six-cylinder charge-cooled engine: rated at 162kW (220hp), this unit meets Euro-2 emission standards, as will later electronically controlled four-cylinder engines.
The MAN engines are matched to new five and sixspeed ZF synchromesh gearboxes, with a six-speed Eaton box available as an option_ The chassis is stiffer than the G90's, with tubular cross-members to increase torsional rigidity—improving handling—and MAN claims another first with the introduction of a front underrun bar as standard. The flat-topped frame is said to be a "body-friendly" design.
The L2000's full air braking system has front discs, and an engine brake will be available soon.
The Steyr-derived cab replaces the G90's LT-based unit, and spells the end of the MAN-VW co-operative deal; the new model is more spacious (despite being shorter), better equipped, more corrosion-resistant and stronger. More than just a facelift, the Steyr design has been changed completely for mass-production. MAN hopes to build 35 each day by next year.
The 12000's improvements in strength and safety mean a weight penalty: MAN admits that the new vehicle will be 80-100kg heavier than a comparable G90.
The L2000 will initially range from seven to 10 tonnes GVW, with a maximum GTW in drawbar trim of 16.5 tonnes. Wheelbase will be from 100m (in tipper trim) to 4.90m, and ECAS air suspension is an option. Later options will include a sleeper ail), and heavier axles for greater train weights. The LE range (see box) includes three tipper and three rigid chassis.
IVIAN's launch was impressive— around 30 demonstration vehicles and dozens of chassis—
including right-hand-drive models—bodied by many Continental manufacturers. The intention was to show the 12000's versatility and their manufacturing rffidiness.
CM drove a part-loaded 8.153E 7.5-tonner round a short suburban road route: initial impressions were good, starting with easy entry to the cab and the comfortable driver's seat.
The new Super 4 engine is responsive and very smooth, but direct injection means that it is not quiet The easy gearchange is let down by a notchy change into fifth and by a gap in the gearing
between third and fourth, dropping the engine almost out of the green band. Driveability of the UK model will be altered by a 3.45:1 back axle in place of the 3.90:1 of the Continental model.
Other controls are very light, but the overall feel is that of a fullsize truck: the cab is a three-seater, and visibility is good, but despite an adjustable steering column some minor gauges were obscured by the wheel.
The L2000 is evidently a highquality product, with a broad range of engines and a thoughtful approach to body fitment and long-term value. MAN hopes to make a big impact in the UK with it.