Ash artics ban report denied
21st October 1993
Page 11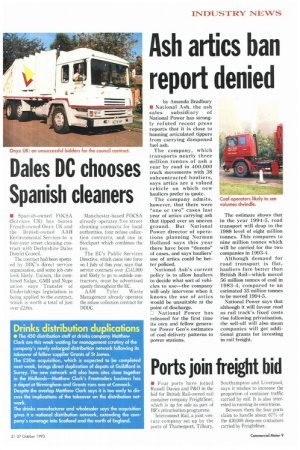 Page 11, 21st October 1993 —
Ash artics ban report denied
Close
by Amanda Bradbury • National Ash, the ash sales subsidiary of National Power has strongly refuted recent press reports that it is close to banning articulated tippers from carrying dampened fuel ash.
The company, which transports nearly three million tonnes of ash a year by road in 400,000 truck movements with 38 subcontracted hauliers, says artics are a valued vehicle on which new hauliers prefer to quote.
The company admits, however, that there were "one or two" cases last year of artics carrying ash that tipped over on uneven ground. But National Power director of operations planning Norman Holland says this year there have been "dozens" of cases, and says hauliers' use of artics could be better policed.
National Ash's current policy is to allow hauliers to decide what sort of vehicles to use—the company will only intervene when it knows the use of artics would be unsuitable at the point of discharge.
LT National Power has released for the first time its own and fellow generator Power Gen's estimates of coal delivery patterns to power stations. The estimate shows that in the year 1994-5, road transport will drop to the 1988 level of eight million tonnes. This compares to nine million tonnes which will be carried for the two companies in 1993-4.
Although demand for road transport is flat, hauliers fare better than British Rail—which moved 56 million tonnes of coal in 1983-4, compared to an estimated 35 million tonnes to be moved 1994-5.
National Power says that although it will favour road as rail track's fixed costs rise following privatisation, the sell-off will also mean companies will get additional grants for investing in rail freight.