• Motors Help B.R. to Improve Service
21st October 1949
Page 37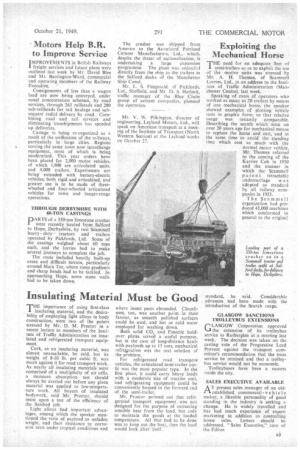 Page 37, 21st October 1949 —
• Motors Help B.R. to Improve Service
Close
I MPROVEMENTS in British Railways freight services and future plans were outlined last week by Mr. David Mee and Mr. Barrington-Ward, commercial and operating members of the Railway Executive.
Consignments of less than a wagon load are now being conveyed, under zonal concentration schemes, by road services, through 263 railheads and 280 sub-railheads for rail haulage and subsequent radial delivery by road. Combining road and rail services and eliminating transhipments has speeded up deliveries.
Cartage is being re-organized as a result of the unification of the railways, particularly in large cities. Regions serving the same town now interchange equipment, most of which is being modernized. This year orders have been placed for 2,000 motor vehicles, if which 1,900 are articulated nnits, and 4,000 trailers. Experiments are being' extended with battery-electric vehicles, both rigid and articulated, and greater use is to be made of threewheeled and four-wheeled articulated vehicles for town and longer-range operations.
THROUGH DERBYSHIRE WITH 61)..TON CASTINGS
PRTS of a 350-ton limestone crusher I were recently hauled from Salford to Hope, Derbyshire, by two Scammell
heavy duty tractors and trailers operated by Pickfords, Ltd. Some of the castings weighed about GO tons each, and the lorries had to make several journeys to complete the job.
The route included heavily built-up areas and difficult terrain, particularly around Main Tor, where steep gradients and sharp bends had to be tackled. In approaching Hope, some stone walls had to be taken down.
The crusher was shipped from America to the Associated Portland Cement Manufacture's. -Ltd.. which, despite the threat of nationalization, is undertaking a large expansion programme. . The plant was unload:A directly from the ship to the trailers in the Salford docks of the Manchester Ship Canal.
Mr. L. S. Fitzgerald. of Pickfords, Ltd., Sheffield, and Mr D. S. Harlock, traffic manager of the .Blue Circle group of cement companies, planned the operation.