Mr. Read Wants to Know . .
21st October 1949
Page 36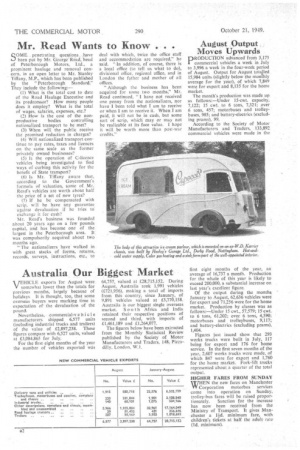 Page 36, 21st October 1949 —
Mr. Read Wants to Know . .
Close
S"E• penetrating questions have been put by Mr. George Read, head of Peterborough Motors, Ltd., a prominent haulage and removal concern, in an open letter to Mr, Stanley Tiffany, M.P., which has been published by the "Peterborough Standard." They include the following:—
(1) What is the total cost to date of the Road Haulage Executive and its predecessor? How many people does it employ? What is the total of wages, salaries, expenses, etc.?
(2) How is the cost of the non productive bodies controlling nationalized transport to be met?
(3) When will the public receive the promised reduction in charges?
(4) Will nationalized transport continue to pay rates, taxes and licences on the same scale as the former privately owned businesses?
(5) Is the operation of C-licence vehicles being investigated to find ways of curbing this activity for the benefit of State transport?
(6) Is Mr. Tiffany aware that, according to the Government's formula of valuation, some of Mr. Read's vehicles are worth aboht half the price of a set of new tyres?
(7) If he be compensated with scrip, will he have any guarantee.
• against devaluation if he tries to exchange it for cash?
Mr. Read's business was founded about 20 years ago on a few pounds capital, and has become one of the largest in the Peterborough area. It was compulsorily acquired about two months ago.
" The nationalizers have walked in with great stacks of forms, returns, records, surveys, instructions, etc., to deal with which, twice the office staff and accommodation are required," he said. "In addition, of course, there is a local office (to tell us what to do), divisional office, regional office, and in London the father and mother of all offices.
"Although the business has been acquired for some two months," Mr. Read continued, " I have not received one penny from the nationalizers, nor have I been told what I am to receive or when I am to receive it. When I am paid, it will not he in cash, but some sort of scrip, which* may or may not he realizable at its face value. 1 hope it will be worth more than post-war credits."