A.M.C. Tells Councils to Fight for their Transport Systems
21st October 1949
Page 32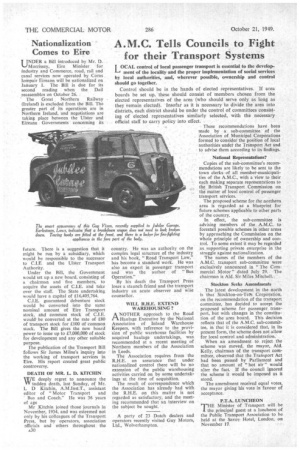 Page 32, 21st October 1949 —
A.M.C. Tells Councils to Fight for their Transport Systems
Close
LOCAL control of local passenger transport is essential to the development of the locality and the proper implementation of social services by local authorities, and, wherever possible, ownership and control should go together.
Control should be in the hands of elected representatives. If area boards be set up, these should consist of members chosen from the elected representatives of the area (who should serve only as long as they "remain elected), Insofar as it is necessary to divide the area into districts, each district should be under the control of committees consisting of elected representatives similarly selected, with the necessary official staff to carry policy into effect.
These recommendations have been made by a sub-committee of the Association of Municipal Corporations formed to consider theposition of local authorities under the Transport Act and to advise them according to its findings.
National Representations?
Copies of the sub-committee's recommendations are likely to be sent to the town clerks of all member-municipalities of the A.M.C., with a view to their each making separate representations to the British Transport Commission on the matter of local control of passenger transport services.
The proposed scheme for the northern area is regarded as a blueprint for future schemes applicable to other parts of the country.
In effect, the sub-committee is advising members of the A.M,C, to forestall possible schemes in other areas by approaching the Commission on the whole principle of ownership and control. To some extent it may be regarded as supporting private enterprise in the struggle against nationalization.
The names of the members of the A.M.C. transport sub-committee were exclusively announced in "The Commercial Motor" dated July 29. The chairman is Aid. Sir Miles Mitchell.
Stockton Seeks Amendments
The latest development in the north is that Stockton-on-Ten Corporation, on the recommendation of the transport committee, has decided to accept the proposed scheme for passenger transport, but with changes in the constitution of the area board. This decision reflects that of the A.M.C. sub-committee, in that it is considered that, in its present form, the scheme does not allow for local control and administration.
When an amendment to reject the scheme was moved, the mayor, Ald. Kelly, chairman of the transport committee, observed that the Transport Act had been passed by Parliament and that no amount of "hot air" would alter the fact. If the council ignored the scheme it would be imposed as it stood.
The amendment received equal votes, the mayor giving his vote in favour of acceptance.
P.T.A. LUNCHEON THE Minister of Transport will be
the principal guest at a luncheon of the Public Transport Association to be held at the Savoy Hotel, London. on November 17.