EARNING A LIVING BY MOTOR HAULAGE.
21st October 1924
Page 21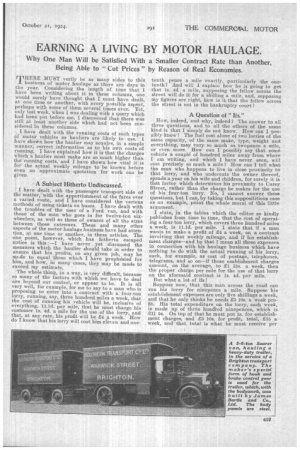 Page 22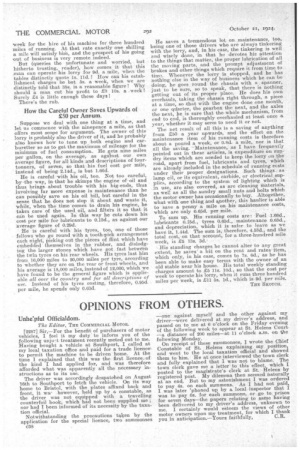 Page 21, 21st October 1924 —
EARNING A LIVING BY MOTOR HAULAGE.
Close
Why One Man Will be Satisfied With a Smaller Contract Rate than Another, Being Able to "Cut Prices" by Reason of Real Economies.
MHERE MUST verily be as many sides to this 1_ business of motor haulage as there are days in the year. Considering the length of time that I have been writing about it in these columns, one. would surely have thought that I Enlist have dealt, at one time or another, with every possible aspect, perhaps with some of them several times over. Yet, only last week, when I was dealing with a query which had been put before me, I discovered that there was still at least another side which had not been considered in these columns.
I have dealt with the running costs of such types of motor vehicles as hauliers are likely to use. I have shov!rn how the haulier may acquire, in a simple manner, correct information as to his own costs of running. I have explained how it is that the charges which a haulier must make are so much higher than the running costs, and I have shown how vital it is for• the actual weekly mileage to be known before even an approximate quotation for work can be g iven.
A Subject Hitherto Undiscussed.
• I have dealt with the passenger transport side of the matter, with the apportionment of the fares over a varied route, and I have considered the various methods of using tickets on buses. I have dealt with the troubles of the user of a Ford van, and with those " of the man who goes in for twelve-ton sixwheelers, as well as those of owners of all the sizes between those extremes. These and many other aspects of the motor haulage business have had attention, at one time or another, in these articles. The one point, however, which has hitherto escaped notice is this : —I have never yet discussed the measures which the haulier should take in order to ensure that his profits, on any given job,be mz.de to equal those which I have prophesied for him, and how, in many eases, they may be made to exceed my estimate..
The whole thing, in a way, is very difficult, because so many of the factors with which we have to deal are beyond our control, or appear to be. It is all very well, for example, for me to say to a man who is proposing to enter into a contract with a four-ton lorry, running, say, three hundred miles a week, that the cost of running his vehicle will he, inclusive of everything, Mid. per mile, that he must charge his customer is. 4d. a mile for the use of the lorry, and that, at any rate, his profit will be 24 a week. How do I know that his lorry will cost him eieven and one tenth pence a mile exactly, particularly the onetenth ? And will 1 explain how he is going to get that is. 4d. a mile, supposing the fellow across the street will do it for a shilling a mile and, supposing my figures are right, how is it that ;he fellow across the street is not in the bankruptcy court ?
A Question of "Ifs."
How, indeed, and why, indeed ? The answer to all three questions, and to all the others of the same kind is that I simply do not know. How can I possibly know? The fuel cost alone of two lorries of the same capacity, of the same make, type, weight and everything, may vary so much as twopence a mile, or even more. How can I possibly say that some vehicle a couple of hundred miles away from where I am writing, and which I have never seen, will cost precisely so much a mile ? How can I tell what the man who happens to live in close proximity to that lorry, and who undercuts the owner thereof, spends a year on his wife and children, f or surely it is that factor which determines his proximity to Carey Street, rather than the charge he makes for the use of his four-ton lorry. No, I cannot answer these questions, but I can, by taking this supposititious case as an example, point the whole moral of this little argument.
I state, in the tables which the editor so kindly publishes from time to time, that the cost of operating a four-ton lorry, which covers three hundred Miles a week, is 11.1d. per mile. I state that if a man wants to make a profit of £4 a week, on a contract involving that weekly mileage, and if his establishment charges—and by that I mean all those expenses in connection with his haulage business which have nothing to do with the actual running of his lorry, such, for example, as cost of postage, telephones, telegrams, and so on—if those esablishment charges amount, on the average, to Li les. a week, then the proper charge per mile for the use of that lorry on the aforesaid contract is is. 4d. per mile.
But what a lot of ifs !
Suppose now, that this man across the road can run his lorry for ninepence a mile. Suppose his establishment expenses are only five shillings a week, and that he only thinks he needs £3 10s. a week profit. His total expenditure on the lorry, each week, is made up of three hundred ninepences, which is £11 Ss. On top of that he must put es. for establishment charges, and £3 10s. for profit, total, £15 a week, and that total is what he must receive per
week for the hire of his machine for three hundred miles of running. At that rate exactly one shilling a mile will satisfy him, and the prospect of his going out of business is very remote indeed.
But (queries the unfortunate and worried, but hitherto trusting, reader), how comes it that this man can operate his lorry for 9d. a mile, when the tables distinctly quote Is. 11d. 1 How can his establishment charges he but 5s. a week, when we are distinctly told that 35s. is a reasonable figure? Why should a man cut his profit to R3 10s. a • week ? Surely 24 is little enough these clays! There's the rub.
How the Careful Owner Saves Upwards of £50 per Annum.
Suppose we deal with one thing at a time, and let us commence with the reinepence a mile, as that offers most scope for argument. The owner of this lorry is probably also the driver of it, and he probably also knows how to tune up both engine arid carburetter so as to get the maximum of mileage for the minimum of fuel consumption. He gets nine miles per gallon, on the average, as against our own average figure, for all kinds and descriptions of fourtonners, of seven, so that his fuel cost per mile, instead of being 2.14d." is but 1.66d.
He is careful with his oil, too. Not too careful, by 'the way, in that he skimps the engine of oil and thus brings about trouble with his big-ends, thus involving far more expense in maintenance than he can possibly save on his oil bill, but careful in the sense that he does not slop it about and. waste it, while, when the time comes to drain his engine, he takes care of the used oil, and fiRe'rs it so that it can be Used again. In this way he cuts down his cast per mile for lubricants to 0.15d., as against our average figure of 0.29d.
He is careful with his tyres, too, one of those fellows who go round with a tooth-pick arrangement each night, Picking out the pieces of flint which have embedded themselves in the rubber, and dislodging the larger stones which have got fast between the twin tyres on his rear wheels. His tyres last him from 16,000 miles to 20,000 miles per tyre, according to whether they are on the rear or front wheels, and his average is 18,000 miles, instead of 12,000, which we have found to be the general figure which is applicable all over the country and for all descriptions of use. Instead of his tyres costing, therefore, 0.95d.. per mile, he spends only 0.63d.
He saves a tremendous lot on maintenance, too, being one of those drivers who are always tinkering with the lorry, and, in his case, the tinkering is well and wisely done, in that he devotes his attention to the things that matter, the proper lubrication of all the moving parts, and the prompt adjustment of brakes and other things which require it from time to tine. Whenever the lorry is stopped, and he has nothing else in the way of business which he can be doing, he goes round the chassis with a spanner, just to be sure, so to speak, that there is nothing getting out of its proper place. He does his own overhauls, taking the chassis right through, a piece at a time, so that with the engine done one month, or one Wafter, the gearbox the next, and the axles the next, lie is sure that the whole mechanism, from end to end, is thoroughly overhauled at least once a year, whether it may seem to need it or not.
The net result of all this is a saving of anything from 250 a year upwards, and the effect on the maintenance item of his running costs is therefore about a pound a week, or 0.8d. a mile, nor is that all the saving. Maintenance, as I have frequently pointed out in these articles, is expenditure on RIMdry items which are needed to keep the lorry on the road, apart from fuel, lubricants and tyres, which are already included in the schedule of running costs under their proper designations. Such things as lamp cil, or its equivalent, carbide, or electrical supplies, according to the system of lightirlg which is in use, are also covered, as arc cleaning Materials, as well as all the sundry small nuts and bolts which the motor owner has occasionally to buy. Altogether, what with one thing and another, this haulier is able to save a penny a mile on his maintenance costs,
which are only 0.6.5d. per mile. • •
To sum up. His running costs are: Fuel 1.66d.,
labricants 0.15d., tyres 4163d., maintenance 0.65d., and depreciation which it is safer to leave as we have it, 1.44d. The sum is, therefore, 4.53d., and the total cost, on that account, for a three-hundred mile week, is 25 13s. 3d.
His standing charges he cannot alter to any great extent, he saves' a bit on the rent and rates item, which only, in his case, comes to 7s. 6d., as hehas been able to make easy terms with the owner of an old stable near his house. His total weekly standing charges amount to 25 11s. 10d., so that the cost per week to operate his lorry, when it runs three hundred miles per week, is 211 5s. id., which is 9d. per mile.
THE SKOTC13.