ONE HEARS
21st November 1918
Page 3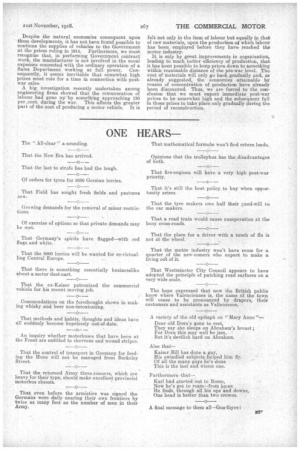 Page 3, 21st November 1918 —
ONE HEARS
Close
The " All-clear " a-sounding.
That the New Era has arrived.
That the last to strafe has had the laugh.
—0 Of orders for tyres for 5000 German lorries.
That Field has sought fresh fields and pastures aew.
Growing demands for the removal of minor restrictions.
Of exercise of options so that private demands may be met.
That Germany's spirits have flagged—with red flags and white.
That the 5000 lorries will be wanted for re-victualling Central Europe.
That there is something essentially businesslike about a motor dust-cart.
That the ex-Kaiser patronized the commercial vehicle for his recent moving job.
Commendations on the forethought shown in making whisky and beer non-intoxicating.
That methods and habits, thoughts and ideas have all suddenly become hopelessly out-of-date.
An inquiry whether motorbuses that have been at the Front are entitled to chevrons and wound stripes.
That the control of transport in Germany for feeding the Huns will not be managed from Berkeley Street.
That the returned Army three-tonners, which are heavy for their type, should make excellent provincial motorbus chassis.
That even before the armistice was signed the Germans were daily nearing their own frontiers by twice as many feet as the number of men in their Army. That mathematical formulte won't find return loads.
Opinions that the trolleybus has the disadvantages of both.
That fire-engines will have a very high post-war priority.
That it's still the best policy, to buy when opportunity arises.
That the tyre makers owe half their Good-will to the car makers.
That a road train would cause exasperation at the busy cross-roads.
That the place for a driver with a touch of flu is not at the wheel.'
That the motor industry won't have room for a quarter of the new-comers who expect to make a. living oul of it.
That Westminster City Council appears to have adopted the principle of patching road surfaces on a very wide scale.
The hope expressed that now the British publio know where Valenciennes is, the name of the town will cease to be pronounced by drapers, their customers and assistants as Vallenseens.
A variety of the old epitaph on "Mary Anne " Dear old Dora's gone to rest, They say she Sleeps on Abraham's breast ; For Dora this may well be jam, But it's devilish bard on Abraham.
Also that— Kaiser Bill has done a guy, His swindled subjects helped him fly. Of all the many guys he's done This is the last and wisest one.
Furthermore that— Karl had started out to Rome, Now he's got to roam—from home. He finds, through all his ups and downs, One head is better than two crowns.
A final message to them all—Goo-lbyee I