OUT AND HOME.
21st November 1918
Page 20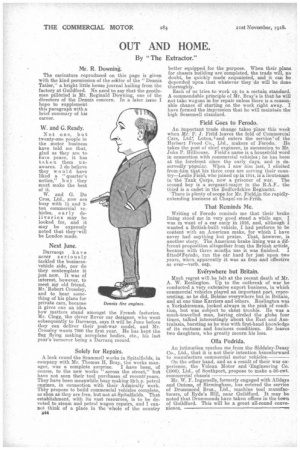 Page 20, 21st November 1918 —
OUT AND HOME.
Close
By "The Extractor."
Mr. R. Downing.
The caricature reproduced on this page is given with the kind permission of the editor of the "Dennis Tatler," a, bright little house journal hailing from the factory at Guildford. No need to say that the gentleman pilloried is Mr. Reginald Downing, one of the directors of the. Dennis concern. In a later issue I hope to supplement this paragraph with a, brief summary of his career.
W. and G. Ready.
Not one, but twenty-one people in the motor business have told me that, glad as they are to have peace, it has taken them Unawares. I do believe they would have liked a " quarter's notice," b u t they must make the best of it.
W. and G. Du Oros, Ltd., now are busy with 1i and 2ton commercial vehicles, early deliveries may be looked for, and it may be expressly noted that they 'will be London made.
Next June.
Da.rracqs have never seriously tackled the businessvehicle side, nor do they contemplate it just now. It was of interest, however, to meet my old friend, Mr.•Robert Crossley, and to hear something of his plans for private cars, because it gives one an idea how matters stand amongst the French factories. Mr. Clegg, the clever Rover car designer, who went subsequently to Darracqs, says it will be June before they can deliver their post-war model, and Mr. Crossley 'wants 7000 the first year. He has kept the flag flying making aeroplane bodies, etc., his last year's turnover being a Darracq record. Dennis fire engines.
Solely for Repairs.
A look round the Seamniell works in Spitalfields, in company with Mr. Thomas H. Bray, the works manager, was a complete surprise. I have been, of course, to the new works "across the street," but have not seen their tool purchases of recent t years. They have been meanwhile busy making 32/h.p. petrol engines, in connection with their Admiralty work. They propose to build commercial vehicles complete, as soon as they are free, but not at Spitalfields. That establishment, with its vast resources, is to be devoted to steam and petrol wagon repairs, and I cannot think of a place in the whole of the country
1344
better equipped for the purpose. When their plans for chassis building are completed, the trade will, no doubt, be quickly made acquainted, and it can be depended upon that whatever they do will be done thormighly. Each of us tries to work up to a certain standard. A commendable principle of Mr. Bray's is that he will not take wagons in for repair unless there is a reasonable chance Of starting on the work right away. I have formed the impression that ho will maintain the high Scammell standard.
Field Goes to Ferodo.
An important trade change takes place this week when Mt...F. J. Field leaves the fold of Commeacial Cars, Ltd.; Luton, 'and enters the service' of the Herbert. Frood Co. Ltd.,. makers of Ferodo. He takes the post of chief engineer, in succession to Mr. John P. Hillhouse. Field's name is a household word in connection with commercial vehicles ; he has been at the forefront since the early days, and is deservedly pepular. Wlien I saw him lag, I elicited from .him that his three sons are serving their country—Leslie Field, who joined up in 1914, is a lieutenant in the Tank Corps, now a prisoner of war. The second boy is a sergeant-major in the R.A.E.. the third is a cadet in the Bedfordshire Regimeat. There is plenty of scope for Mr. Field,in the rapidlyextending business at Chapel-en-le-Frith.
That Reminds Me.
Writing of Ferodo reminds me that their brake lining stood me in very good stead a while ago. I wa,s in want of a. car early in 1916, and, although I wanted a British-built vehicle, I bad perforce to be content with an American make, for which I have never had anything but praise. That, however, is another story. The American brake lining was a:different proposition altogether from the British article, because with three months use it was finished. I fittedfFerbdo, ran the clr hard for just upon two years, when apparently it was as firm and effective as ever—verb. sap.
Everywhere but Britain.
Much regret will be felt at the recent death of Mr. A. W. Roslington. Up to the outbreak of war he conducted a very exteniave export business, in which commercial vehicles played an important part, representing, as he did, Belsize everywhere but in Britain, and at one time Karriers and others. Roslington was a Yorkshireman, looked always in the pink of conditioa, but was subject to chest trouble. He was a much-travelled man, having circled the globefour times, talked interestingly about the East and Australasia, bursting as he was with first-hand knowledge of its customs and business 'conditions. He leaves two daughters, who greatly mourn his loss.
011a Podrida.
An intimation reaches me from the Siddeley-Deasy Co., Ltd., that it is not their intention henceforward to manufacture commercial motor vehicles On the other hand, and as a result of their war experience, the Vulcan Motor and lEngineering Co. (1906), Ltd., of Southport, propose to make a atcwt. commercial chassis Mr. W. F. Ingainells, formerly engaged with Alldays and Onions, of Birmingham, has entered the service of Drummond Bros., Ltd., machine tool manufacturers, of Ryde's Hill, near Guildford. It may be noted that Drunnmonds haye taken offices in the town of Guildford. This will be a great all-round convenience.