Europe's transport building-up 'too slow'
21st May 1976
Page 9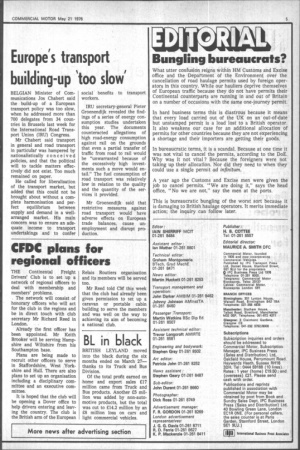 Page 9, 21st May 1976 —
Europe's transport building-up 'too slow'
Close
BELGIAN Minister of Communications Jos Chabert said the build-up of a European transport policy was too slow, when he addressed more than 700 delegates from 34 countries in Brussels last week for the International Road Transport Union (IRU) Congress.
Mr Chabert said transport in general and road transport in particular was hampered by nationalistically conceived policies, and that the political will to tackle matters effectively did not exist. Too much remained on paper.
He called for liberalisation of the transport market, but added that this could not be brought about without a complete harmonisation and perfect equilibrium between supply and demand in a wellarranged market. His main concern was to ensure an adequate income to transport undertakings and to confer social benefits to transport workers.
IRU secretary-general Pieter Groenendijk revealed the findings of a series of energy consumption studies undertaken this year. The documents counteracted allegations of high road-energy consumption against rail on the grounds that even a partial transfer of traffic from road to rail would be "unwarranted because of the excessively high investments such a move would entail." The fuel consumption of road transport was relatively low in relation to the quality and the quantity of the services it provided.
Mr Groenendijk said that restrictive measures against road transport would have adverse effects on European trade balances, cause unemployment and disrupt production.